Advancing Tobacco Control in Kenya: The Tobacco Control Data Initiative (TCDI) Website
April 18, 2023
Health
Development Gateway
In partnership with Kenya's Ministry of Health, through the Division of Tobacco Control, Development Gateway: An IREX Venture (DG) started creating the Tobacco Control Data Initiative (TCDI) Kenya dashboard (kenya.tobaccocontroldata.org) in 2021. The dashboard will be launched  in Nairobi, Kenya on April 19, 2023. This is  a "one-stop shop" to access the relevant data that Kenya's policymakers need to advance tobacco control implementation. The dashboard is one of several country-specific platforms that DG designed in collaboration with University of Cape Town's Research Unit on the Economics of Excisable Products (REEP).
In addition to Kenya's dashboard, TCDI country dashboards exist for South Africa, Zambia, Nigeria, and Ethiopia and will soon launch for the Democratic Republic of the Congo. All were developed as part of the TCDI Program that DG implements with support from and in partnership with The Bill & Melinda Gates Foundation.
Each country-specific TCDI dashboard addresses barriers to data use in tobacco control by consolidating available, reliable and evidence-based tobacco control data, identifying and filling data gaps, and creating an online resource for policymakers to access the relevant data needed to adopt and implement tobacco control policies. Specifically, the TCDI Kenya dashboard was created in response to the impending threat of tobacco use in Kenya and the various dangers that accompany it. 
Why TCDI?
Tobacco use in Kenya is one of the leading preventable contributors to death and disability from non-communicable diseases (NCDs). In Kenya, NCDs such as cardiovascular diseases, chronic obstructive airway diseases, diabetes, cancers, and renal diseases account for more than 50% of hospital admissions and 39% of all deaths annually (see STEPS 2015).  In 2014, more than 11% of Kenyans (2.5 million individuals) aged 15 and older reported using tobacco products. Tobacco use of both smoked and smokeless products was more prevalent among males, at 19.1% (2.0 million users) compared to 4.5% (504,264 users) among females (see GATS 2014). Tobacco use kills approximately 12,000 Kenyans and costs the economy Kshs. 3 billion annually due to healthcare expenditure and indirect costs associated with lost productivity (due to premature morbidity and mortality). 
Although tobacco control data does exist for Kenya, the data is from disparate sources and not easily accessible, which presents a challenge for adoption and implementation of tobacco control legislation. Through their research, the TCDI team identified common themes in the data landscape. These relate to concerns about data accuracy, comparability, timeliness, and accessibility. As a result, the TCDI team understands the data needs and gaps, has identified existing data, and developed the TCDI Kenya website that enables decision-makers to use essential data to inform tobacco control policy more effectively. 
"Data is currently scattered. A one-stop shop would be the solution. Also a means of knowing about new data when it becomes available." 
The TCDI Kenya Dashboard
Together, the partners co-designed a publicly available dashboard (kenya.tobaccocontroldata.org), a website that aims to address key decision-making needs. The dashboard equips stakeholders in government, civil society, academia, and the general public with reliable and up-to-date evidence to promote tobacco control,  public health and other disciplines. It draws on both primary and secondary data sources and presents tobacco control information in user-friendly formats such as graphs, infographics, myths and facts, and success stories.
The website will feature seven themes: Tobacco Prevalence, Tobacco Farming, Tobacco Industry Interference, Tobacco Taxation, Tobacco Cessation, Enforcement of Tobacco Control Policies, and the Health Burden of Tobacco Use. The dashboard will be updated with new information as it becomes available over the course of the program and continued implementation of tobacco control in the country.
The Development Process
Before creating the TCDI Kenya dashboard, the TCDI team assessed the existing data and stakeholder needs through hour-long interviews with key members of the tobacco control community. The learnings from the assessment were validated with stakeholders during a workshop on November 19, 2020 before technical development proceeded. The website was created through an agile, co-design process in close consultation with key tobacco control stakeholders in Kenya, including Kenya's Ministry of Health. (Find the full list of our stakeholders and partners here.) Initial mockups and website designs were shared back with stakeholders for their input and suggestions. As a final step before launching the site, a stakeholder validation workshop was held on March 22, 2023.
Kenya's Ministry of Health (MOH)
The Ministry of Health's mission is to build a progressive, responsive, and sustainable healthcare system for accelerated attainment of the highest standard of health to all Kenyans. The Division on Tobacco Control in particular (which has been the main contact point) is designated as the focal point for the implementation of the World Health Organization Framework Convention Tobacco Control (WHO-FCTC), The Protocol to Eliminate Illicit Trade in Tobacco Products (ITP), and the Tobacco Control Act (TCA). The division has also been coordinating the Multi-Sectoral Technical Working groups which implement measures beyond the Ministry of Health, undertaking surveillance and reporting on tobacco control implementation.
Development Gateway: An IREX Venture (DG)
Development Gateway: An IREX Venture provides data and digital solutions for international development. DG creates tools that help institutions collect and analyze information; strengthen the institutional capacity to use data; and explore what processes are needed to enable evidence-based decisions. A mission-driven nonprofit since 2000 with staff based in five global hubs and around the world, DG supports the use of data, technology, and evidence to create more effective, open, and engaging institutions. More at www.developmentgateway.org.
Other Partners
Other partners who have been involved in the dashboard development are the Tobacco Control Board, the County Government of Migori County, Kenya Bureau of Standards (KEBS), National Authority for the Campaign Against Alcohol and Drug Abuse (NACADA), Kenya Medical Research Institute (KEMRI), Kenya National Bureau of Statistics (KNBS), Kenya Revenue Authority (KRA), Ministry of Agriculture, Livestock and Fisheries, Ministry of East African Community and Regional Development, Moi Teaching and Referral Hospital, Den of Hope, Development Hub Consulting Ltd, International Institute for Legislative Affairs (IILA), Kenya Tobacco Control Alliance (KETCA), Kenyatta University, NCD Alliance of Kenya (NCDAK) and the World Health Organization.
We welcome you to visit the dashboard for more information and encourage everyone to use the data therein for necessary action for the advancement of tobacco control in Kenya.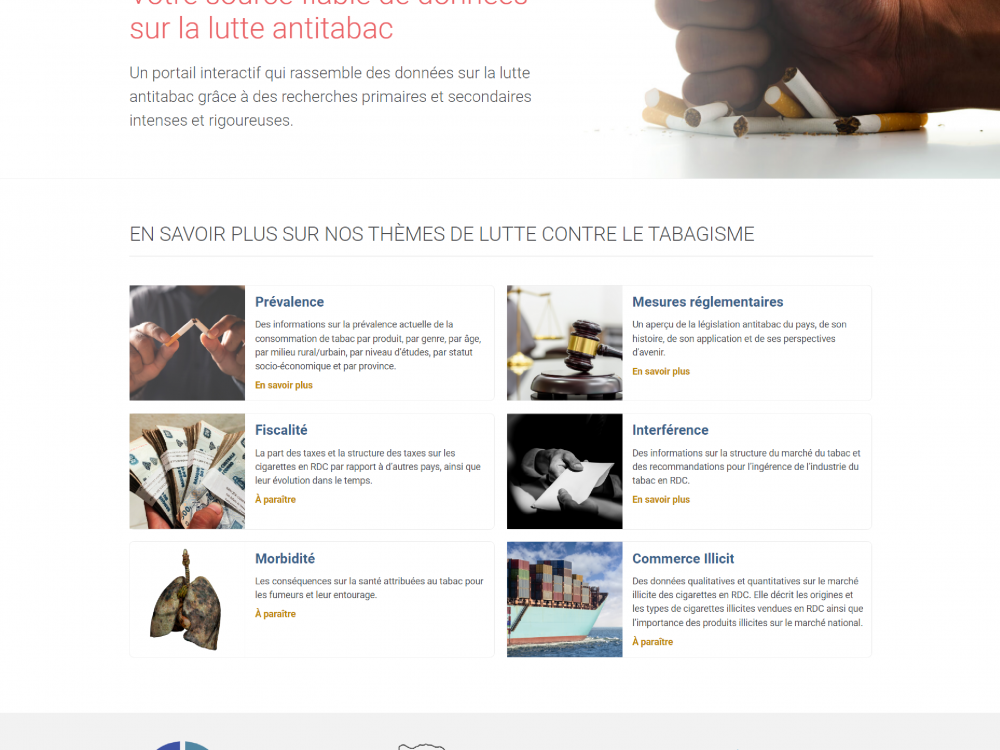 In response to the impending threat of tobacco use in DRC and the various dangers that accompany it, the Tobacco Control Data Initiative website creates a "one-stop shop" to access the relevant data that the DRC's policymakers need to advance tobacco control legislation.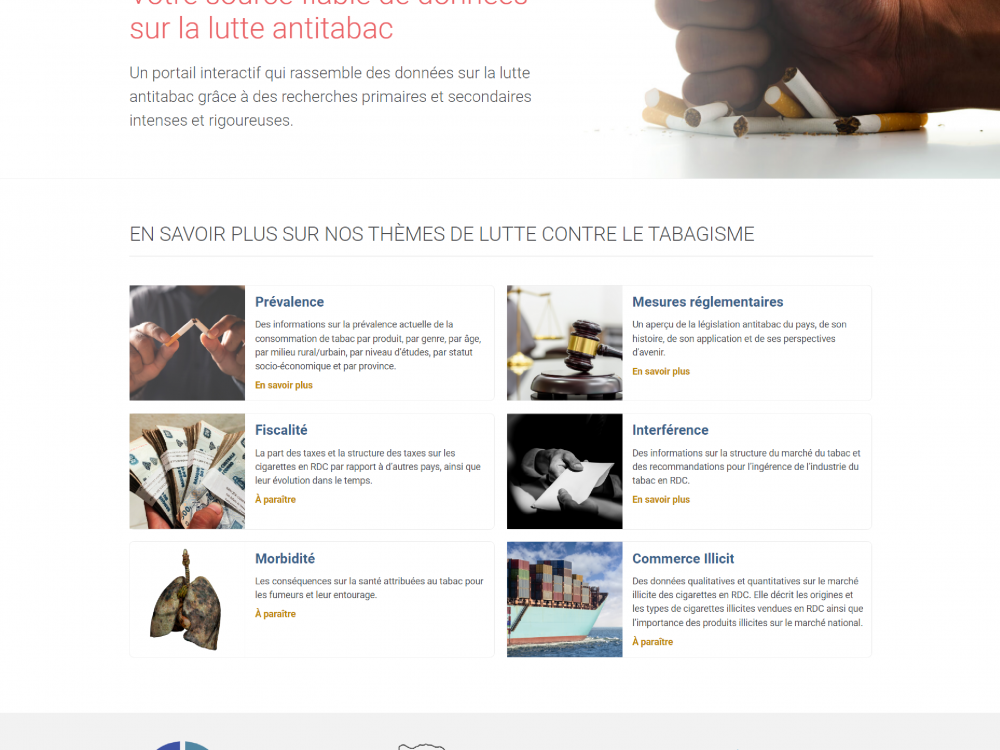 En partenariat avec le Ministère de la Santé de la République Démocratique du Congo (RDC), le Programme National de Lutte Contre la Toxicomanie et les Substances Toxiques (PNLCT), Development Gateway : An IREX Venture (DG) a lancé le tableau de bord de la Tobacco Control Data Initiative (TCDI) de la République Démocratique du Congo (RDC) à Kinshasa, RDC, le 29 mai 2023.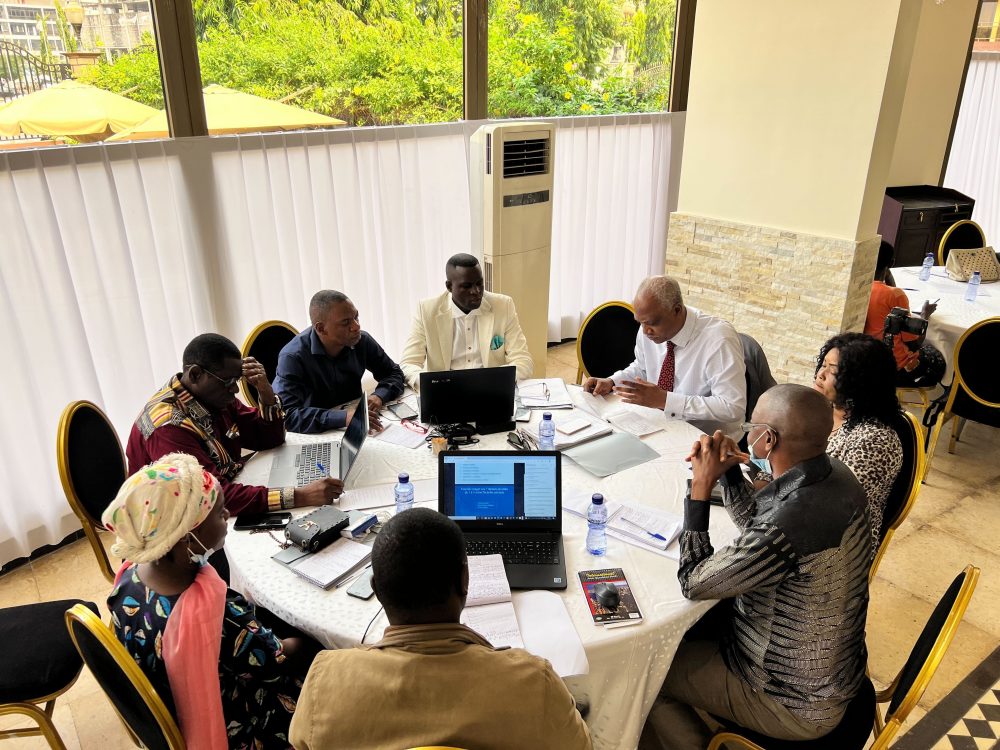 Accessible and timely public health data has the power to shape policy and significantly improve population health outcomes. But effective public health policy needs to be built on a foundation of trust in order for policies and individual health behaviors to change. In DG's TCDI program, we've learned three lessons on how to build trust in public health data.