Countdown to 2030: Accelerating Momentum towards Ending Preventable Maternal, Newborn, and Child Deaths with UNICEF
DG is pleased to announce the recent launch of the Countdown 2030 Country Dashboards and Profiles. In recent months, we partnered with Countdown 2030 and UNICEF, a Countdown 2030 member, to develop a series of comprehensive dashboards that illuminate progress towards achieving Sustainable Development Goal (SDG) 3, Good Health and Wellbeing, which calls for the end of preventable maternal, newborn, and child deaths. The Dashboards and Country Profiles visualize data that is provided through an API serviced by UNICEF.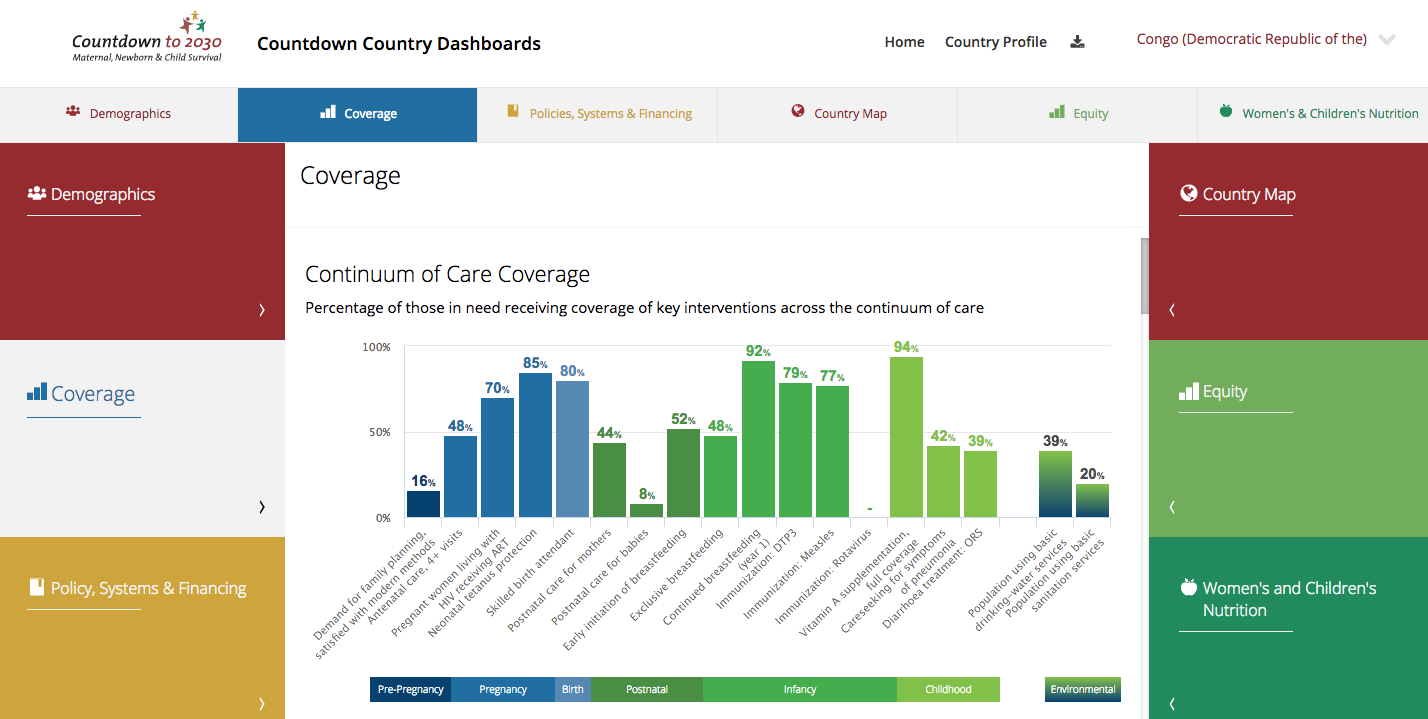 Countdown to 2030 Country Dashboards
The Countdown to 2030 Country Dashboards and Profiles project targets 81 focus countries, which alone account for 90% of child deaths and 95% of maternal deaths throughout the world. As for the dashboards themselves, each one is clear, compelling, and capable of visualizing over 130 Tier 1 and Tier 2 public health indicators, which are organized into seven encompassing key areas:
Demographics;

Coverage;

Policy;

Systems & Financing;

Equity;

Women's and Children's Nutrition;

A specific Country Map for each dashboard, displaying the subnational Composite Coverage Score (a weighted average of the coverage of eight types of interventions).
Zeroing in on just how critical local usability and usefulness really are, the dashboards also include specific indicators that allow users to track and compare country progress towards achieving the SDGs to the regional average. Additionally, in order to ensure data shareability and access across many formats, print-friendly country profiles are available for each country.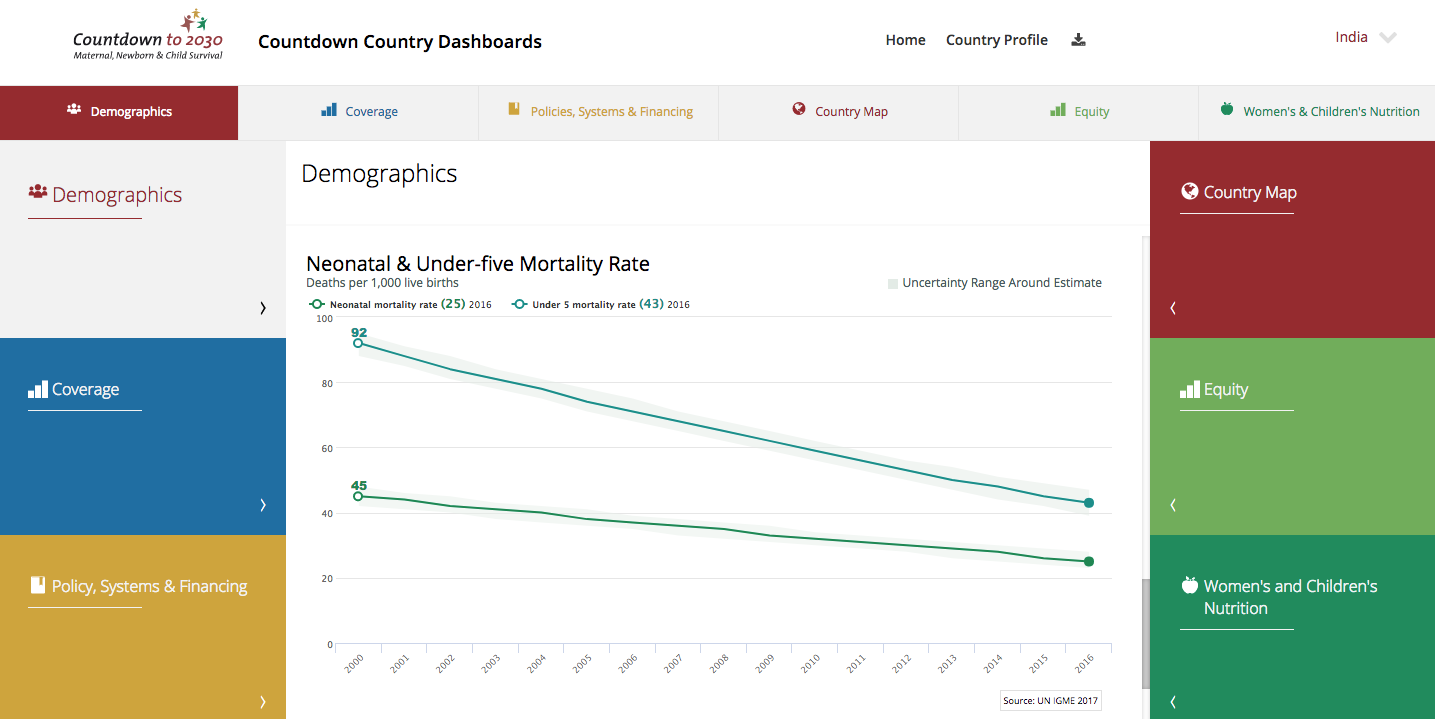 Demographics Dashboard
These high-quality and individualized Dashboards and Profiles are a leading initiative to accelerate momentum towards the Countdown to 2030 goal of:
"increas[ing] public and policy attention to reproductive, maternal, newborn, child and adolescent health and nutrition; strengthen[ing] country and regional capacity to [assess, analyze, and use] data for evidence-based action; and to improv[ing] the quantity and quality of data, as national and regional leaders become more aware of its importance and of current data gaps."
Setting forth clear concepts of how users interact with their data, and a modern, dynamic front end, the Countdown to 2030 Dashboards and Country Profiles are combating one of the most pressing challenges SDG 3 aims to solve.
The Countdown to 2030 Project Team includes Diego Dimunzio, Mauricio Bertoli, Liliana Mercado, Galina Kalvatcheva, Taryn Davis, Martha Staid, and Llanco Talamantes.
Related from our library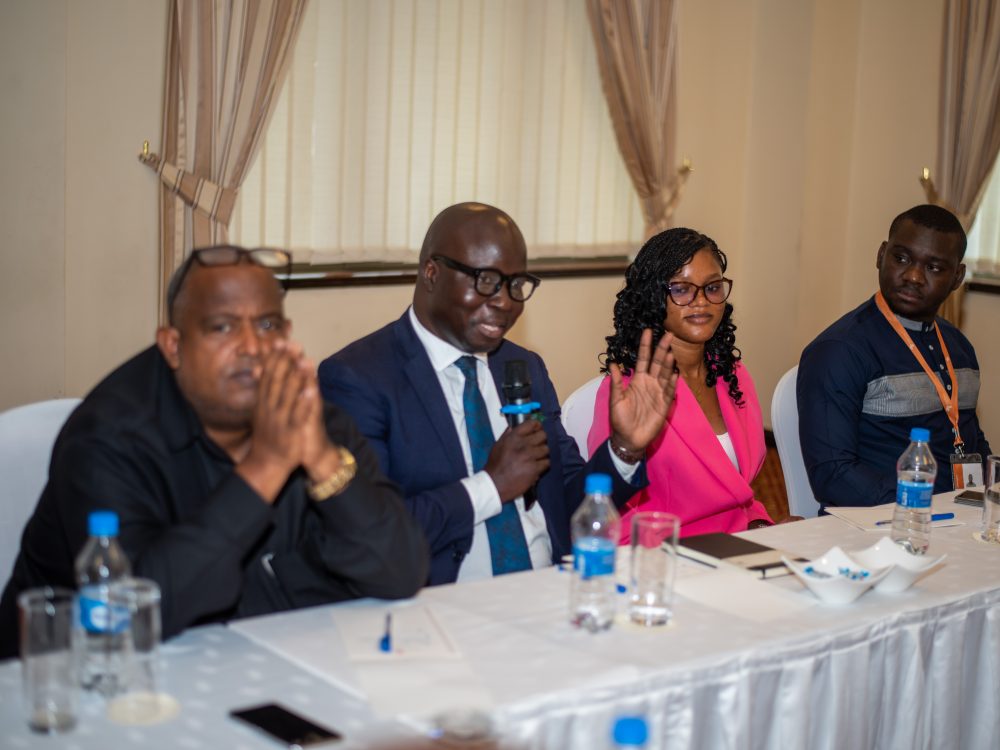 Development Gateway: An IREX Venture (DG) hosted a discussion titled "Transforming Food Systems: The Power of Interoperability and Partnerships" at both Africa Food Systems Forum (AGRF) 2023 and the recently concluded ICT4Ag conference. Discussions from these critical events revolved around key themes crucial to DG's ongoing work, including connecting people, institutions, partners, and systems when we think about technology working at scale to transform agriculture. In this blog, we explore three key takeaways from these conversations.
November 16, 2023
Agriculture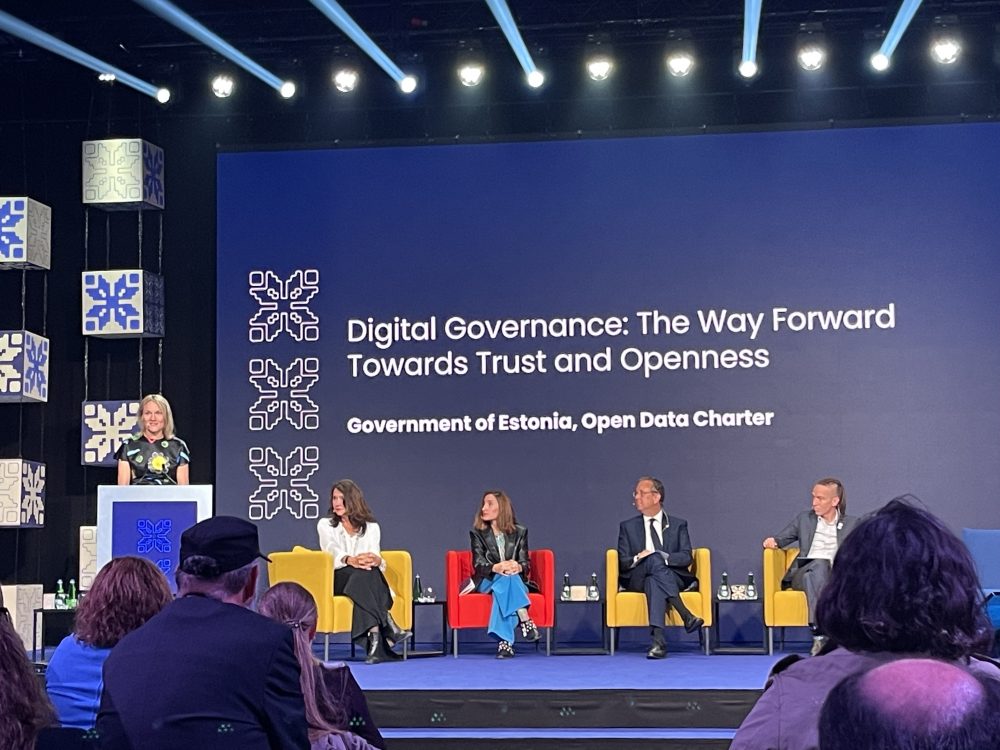 The 2023 OGP Summit in Tallinn, Estonia featured a number of discussions centered on open government in the digital age. While the use of digital tools in government is far from a new idea, the COVID-19 pandemic spurred a rapid expansion of this practice, with leaders quickly adapting to remote environments through digitizing government processes
September 19, 2023
Global Data Policy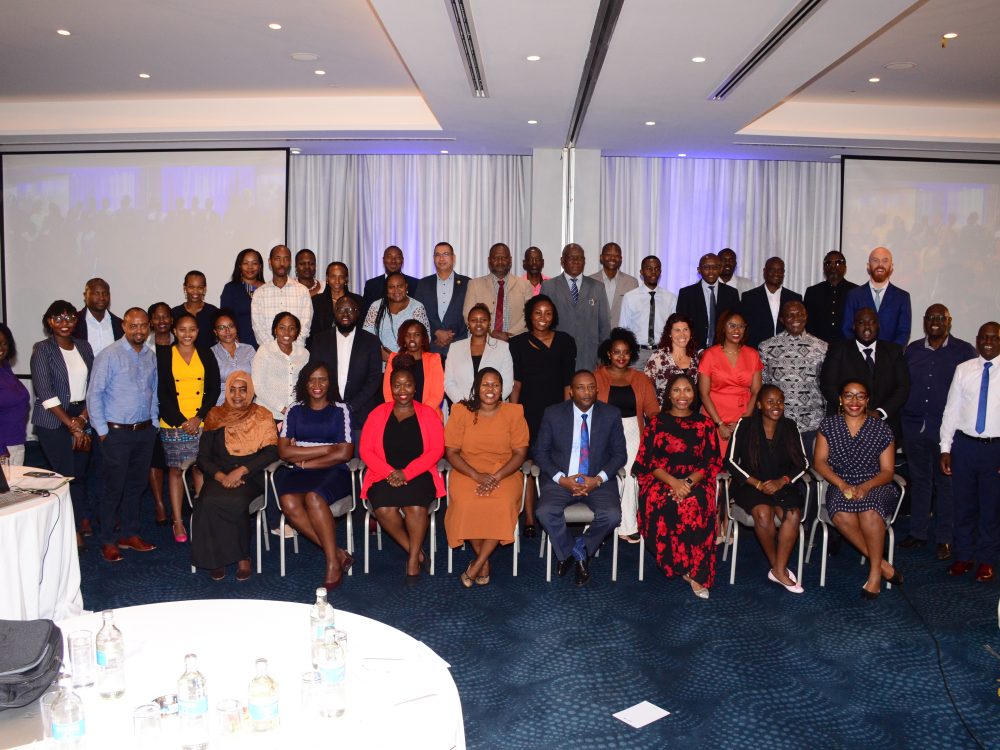 With the aim of improving the efficiency of agriculture data use, Development Gateway: An IREX Venture (DG), Jengalab, and TechChange—with a grant from the International Fund for Agricultural Development (IFAD)—recently held a learning event, titled "Digital Agriculture: Building the Agricultural Systems of Tomorrow," in Nairobi, Kenya. Participants identified two key recommendations for advancing digital agriculture in order to increase food security.
August 29, 2023
Agriculture