Interactive Dashboard Shows Aid Trends in Africa
August 16, 2012
Data Management Systems and MEL
The Strauss Center's Climate Change and African Political Stability (CCAPS) program has released a new aid dashboard that includes an interactive map and graphing tools, allowing users to explore trends in aid allocation by donor, sector, and demographics across Africa. The dashboard is a collaborative effort that includes geocoded aid data from CCAPS and several partner institutions. AidData and CCAPS built the aid dashboard using Esri tools to combine trends analysis with the most comprehensive collection of geocoded data on aid projects in Africa.
Among other information, the dashboard features the first-ever dataset tracking all climate aid activities in a single country. In a pilot study, CCAPS researchers applied their new "climate coding" methodology to all official development aid projects in Malawi's Aid Management Platform assessing each project activity for its relevance to climate change adaptation.
The new dataset opens the door for detailed comparative analysis of climate change adaptation programs and their effectiveness in targeting specific climate risks within a country. Through a collaboration between CCAPS, AidData, and the Government of Malawi, the data were also geocoded, allowing analysts to assess the aid allocation visually as well.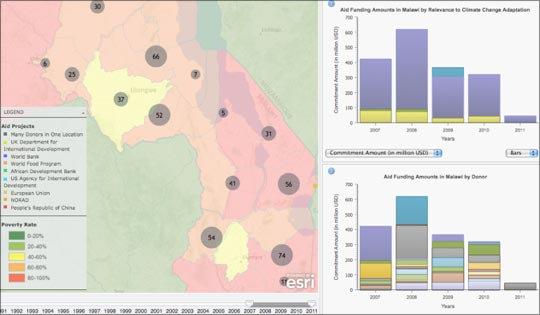 In addition, the aid dashboard includes African Development Bank projects continent-wide geocoded by AidData, and World Bank projects continent-wide geocoded through the World Bank-AidData Mapping for Results initiative.
"The CCAPS aid dashboard allows analysts to explore aid spending as big picture trends or local project information," said CCAPS program manager Ashley Moran. "Our aim is to provide these new data in a way that is as useful as possible to policymakers and researchers needing to ask very focused questions about aid investments and impacts."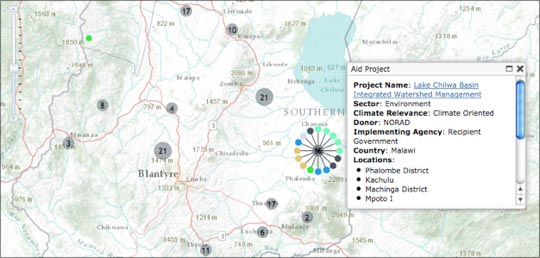 CCAPS researchers "climate coded" over 700 projects in Malawi and found that climate aid, narrowly defined, makes up just 1-2% of aid to Malawi. Norway, the World Bank, USAID, and the European Union are among the donors most involved in adaptation aid in Malawi. Japan and Ireland have several adaptation-related projects, yet their financial contributions are much smaller. The CCAPS research team plans to expand the climate-coding effort continent-wide for several large donors over the next year. The data will be updated on the CCAPS aid dashboard as they become available.
Related from our library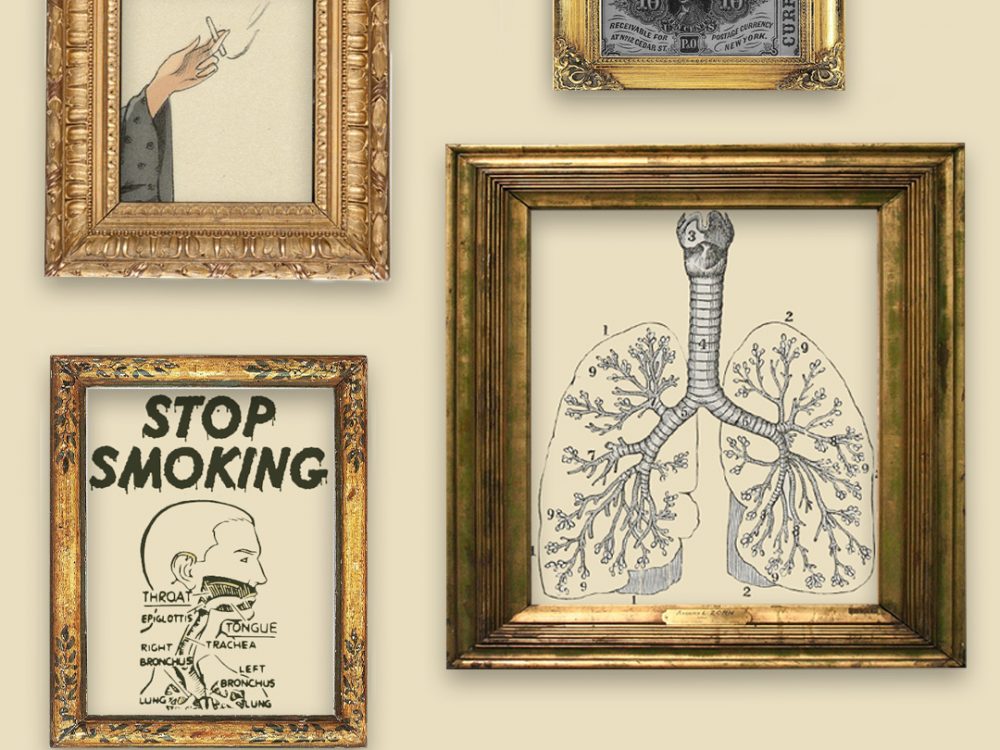 Development Gateway: An IREX Venture (DG)—with support from The Bill & Melinda Gates Foundation (BMGF)—is pleased to announce a new program, Data on Youth and Tobacco in Africa (DaYTA). This three-year, $4 million program will advance tobacco control efforts in sub-Saharan Africa (SSA) by addressing data gaps related to tobacco use among 10- to 17-year-olds in Kenya, Nigeria, and the Democratic Republic of the Congo. Overall, the DaYTA program will empower stakeholders to make timely, data-driven decisions by using evidence to inform policy and, in turn, create a healthier populace in SSA.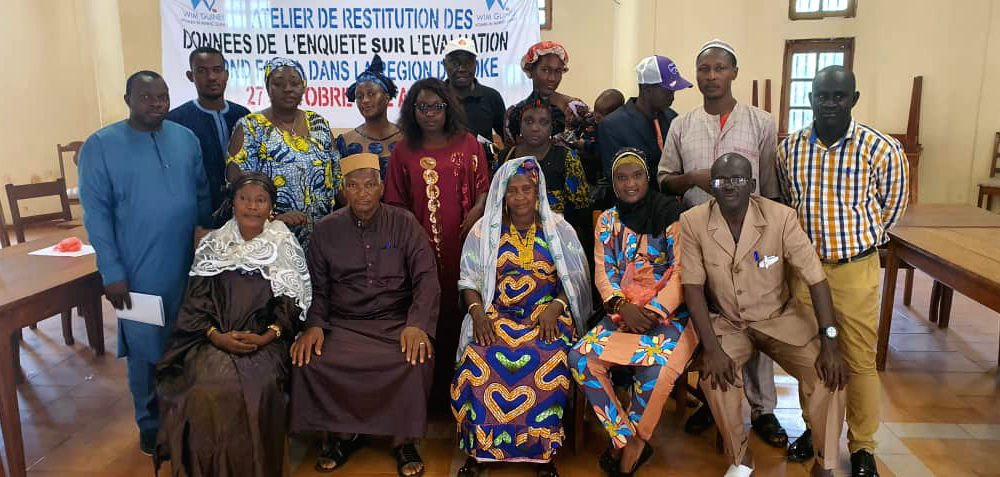 Nous avons organisé un atelier de validation avec notre partenaire de mise en œuvre, Women in Mining (WIM) Guinea dans la région de Boké le 22 octobre 2022 pour confirmer les résultats d'une collecte de données conduite par WIM Guinée dans les sous-préfectures minières de Boké et Boffa. Les données ont révélé des améliorations potentielles des fonds de développement économique local (FODEL) et de leur administration qui, si elles sont mises en œuvre, pourraient permettre davantage aux femmes et aux associations de femmes des communautés minières de capitaliser sur ces fonds et de mieux les utiliser pour soutenir leur développement local.
March 7, 2023
Extractives Management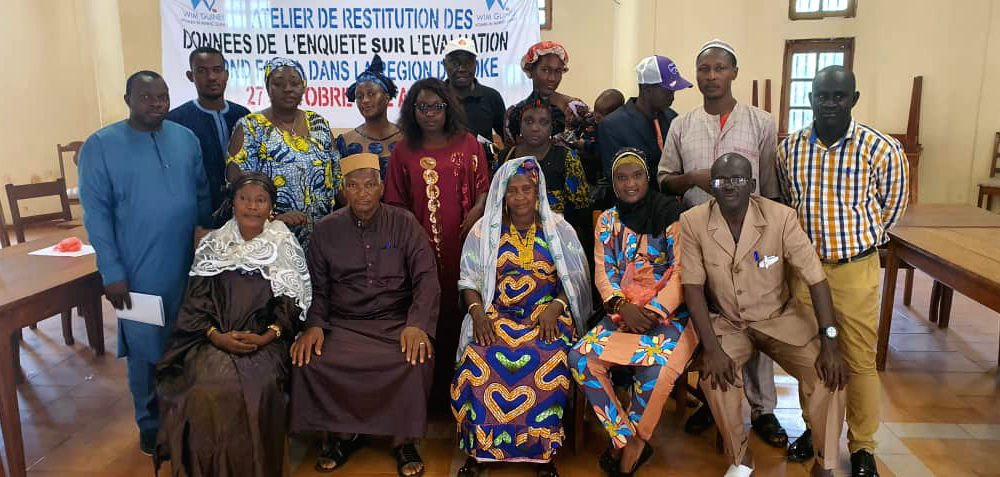 DG and our implementing partner, Women in Mining (WIM) Guinea, held a validation meeting in the Boké region of Guinea on October 22, 2022 to confirm the findings of a data collection initiative that WIM Guinea conducted in the country's Boké and Boffa mining subprefectures. The data revealed potential improvements to local economic development funds (FODEL) and their administration that, if implemented, could further enable women and women's associations in mining communities to capitalize on these funds and better use them to support their local development.
March 7, 2023
Extractives Management