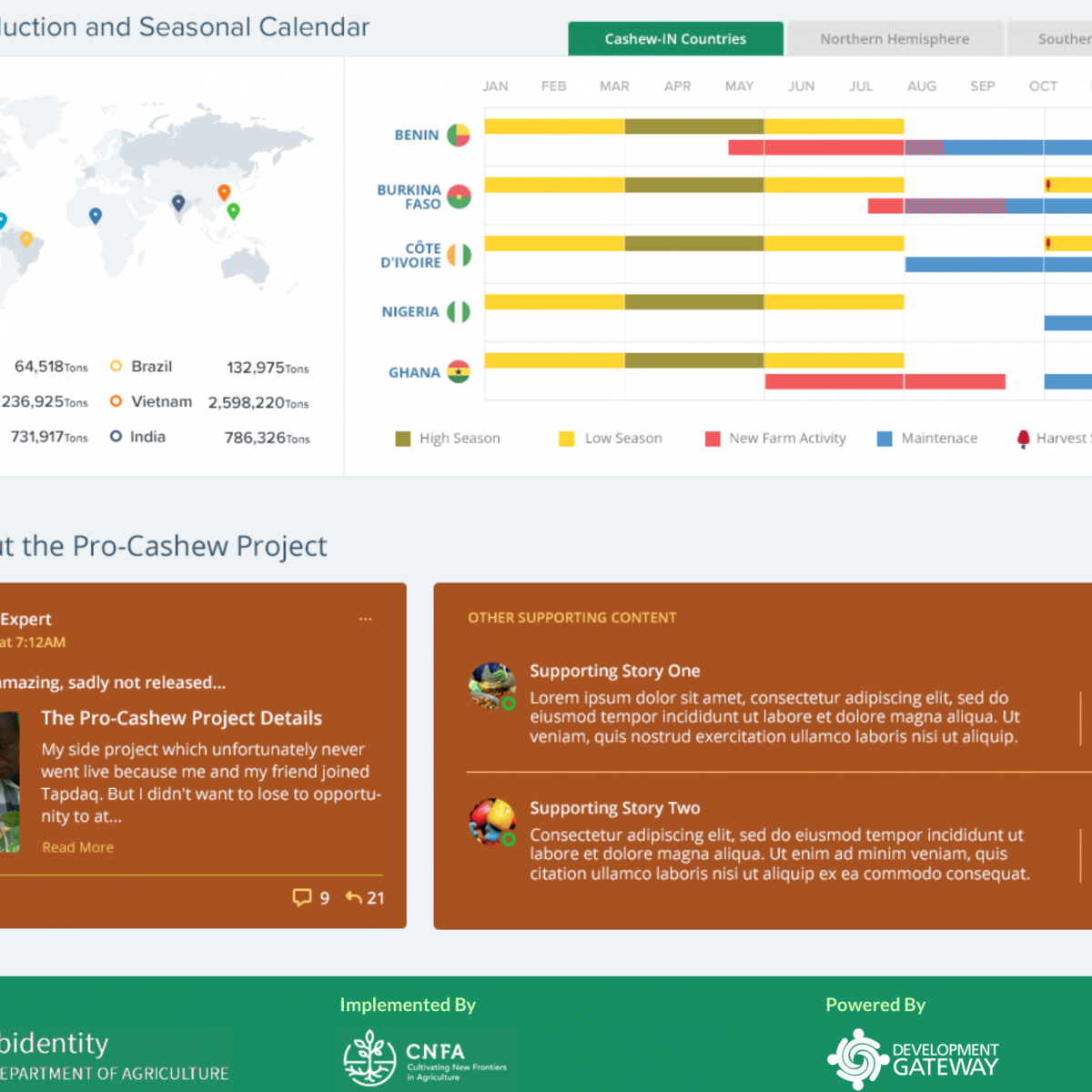 Launching the First of It's Kind Cashew-IN Platform Prototype
December 16, 2021
Agriculture
Aminata Camara Badji, Vanessa Baudin Sanchez
Development Gateway and Cultivating New Frontiers in Agriculture are partnering to launch an innovative Platform to support the West African cashew sector and increase profitability for cashew farmers.
For cashew farmers, producers, processors, and others in the West African cashew sector to increase profits, reduce loss, and improve global competitiveness, comprehensive and reliable data is required. Development Gateway has partnered with Cultivating New Frontiers in Agriculture (CNFA) under the USDA West Africa PRO-Cashew project to develop the Cashew-IN data collection and analysis platform. The project first identified gaps in the data collection, storage, usage and dissemination and is addressing these gaps through a multi-country cashew data management system (Cashew-IN) that will facilitate access to and use of data to improve decision-making for policymakers, farmers, and the private sector. The ultimate goal is to generate better market outcomes for cashew nuts in the five implementing countries (Benin, Burkina Faso, Côte d'Ivoire, Ghana, and Nigeria).
On December 20 at 14:00 GMT+0, join DG, CNFA, and partners (Consultative International Cashew Council, Agence Territoriale de Développement Agricole Borgou Sud-Donga-Collines, Conseil Burkinabè de l'Anacarde, Conseil du Coton et de l'Anacarde, Nigeria Agribusiness Register, the Tree Crops Development Authorities), for the launch of the Cashew-IN Platform prototype. The launch will be virtual and will include a demonstration of the Platform and time for feedback and discussion.
"The generation of data is key to making the sector competitive"
– Cashew Association Member, Ghana
The Process
Between December 2020 and July 2021, DG's project team carried out a desk review, circulated a web-based survey, and conducted key informant interviews to dive deeper into the decision-making processes and data priorities of individual stakeholders. DG met with a total of 47 public and private sector stakeholders, including farmers and local decision makers. 
Between April and July 2021, DG organized co-design workshops to present the assessments initial findings; confirm the themes and available data to be integrated in the platform; and establish and define the roles and responsibilities of the Cashew-IN platform steering committee. 
Hands-on development began after the last workshop, having compiled all country data and visualization needs. Development of the Cashew-IN web application will include a user interface powered by WordPress, a user friendly and intuitive website software. It will extract its information from the embedded database populated with data entered by officially designated operators. 
The Cashew-IN Platform will feature information on prices in the international market; international seasonal calendar; GIS maps showing the location of farms and farmer associations, production-related indicators aggregated at regional level (production, yield, density, etc.); GIS map of processing facilities by type (artisanal, semi-industrial, industrial); indicators related to the processing capacity of different units, type of processed products, and production volumes; information and trends on consumer profiles in national and international markets; and other resource modules. 
"Governing is forecasting, forecasting is to know, therefore reliable and available data are essential to support decision making"
– Government Representative, Burkina Faso
Partners
Partnership agreements have been signed with the chair of Cashew-IN steering committees: Nigeria Agribusiness Register and the Conseil Burkinabè de l'Anacarde (CBA) and others are being finalized with Conseil du Coton et de l'Anacarde – Côte d'Ivoire (CCA); Agence Territoriale de Développement Agricole Borgou Sud-Donga-Collines – Bénin (ATDA-4-BDC); Tree Crops Development Authorities – Ghana (TCDA); Country-based Cashew-IN Steering Committees will be responsible for  the implementation of the Cashew-IN during and after the project, including formalizing partnerships agreements with complementary program implementers, action plan and sustainability plan in each country. At global level, the same process will be established through an MoU with the Consultative International Cashew Council (CICC) and by setting up of a global steering committee that will include representatives of the steering committees at country level as well as other international actors (private sector, research, financiers, etc.)
About Development Gateway (DG)
Development Gateway provides data and digital solutions for international development. DG creates tools that help institutions collect and analyze information; strengthen the institutional capacity to use data; and explore what processes are needed to enable evidence-based decisions. A mission-driven nonprofit since 2000 with staff based in five global hubs and around the world, DG supports the use of data, technology, and evidence to create more effective, open, and engaging institutions. 
About Cultivating New Frontiers in Agriculture (CNFA)
Cultivating New Frontiers in Agriculture is an international agricultural development organization that specializes in the design and implementation of sustainable, enterprise-based agricultural initiatives. We work with businesses, foundations, governments, and communities to build customized local and global partnerships that meet the world's growing demand for food. Since our inception in 1985, we have designed and implemented enterprise-based, agricultural development initiatives to facilitate market access, enhance agribusiness competitiveness, increase productivity, and improve access to inputs and financing in 47 countries around the world.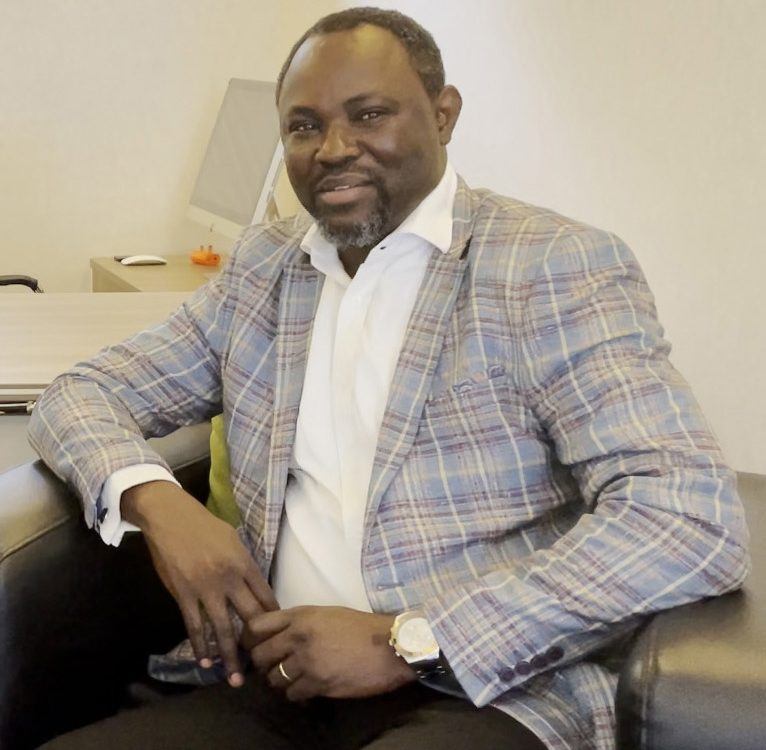 Dr. Folarin Okelola from the National Agricultural Seeds Council (NASC) recently sat down with DGer Aminata Camara Badji to discuss the TASAI Dashboard, which was created in partnership with The African Seed Access Index (TASAI) and will help stakeholders assess seed quality, availability, accessibility, and price in 17 countries in Africa.
January 19, 2023
Agriculture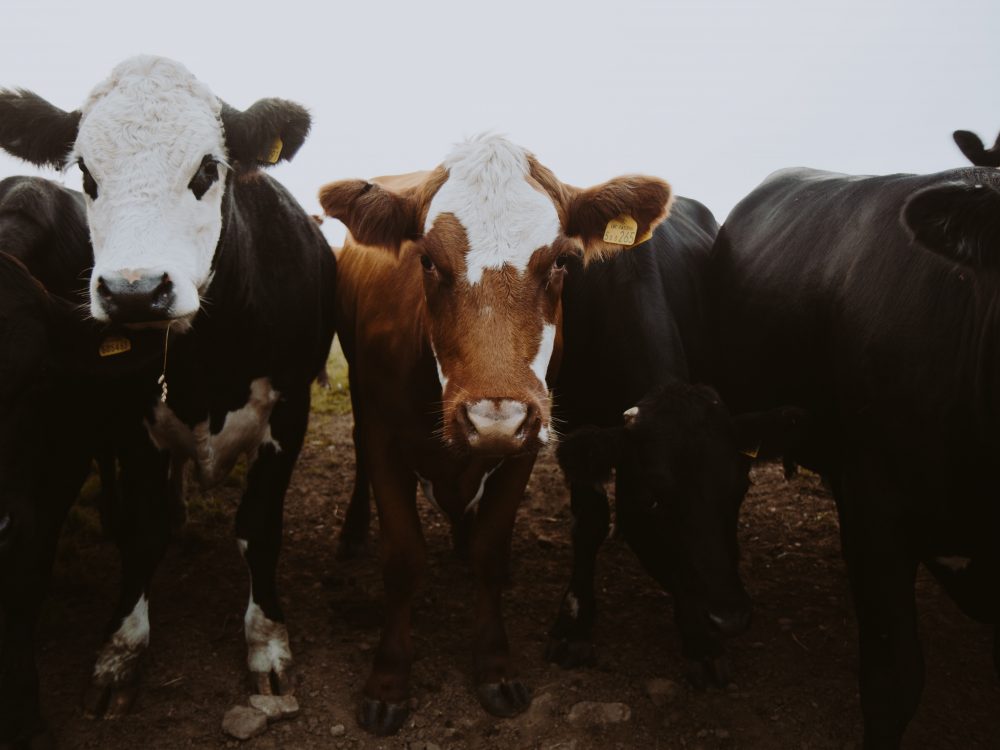 Development Gateway: an IREX Venture (DG)—with funding from The Bill & Melinda Gates Foundation (BMGF) and in partnership with Ethiopia's Ministry of Agriculture (MoA)—is pleased to announce a new program, a Livestock Information Vision for Ethiopia (aLIVE). This four-year, $5 million program will empower Ethiopia's stakeholders in the livestock sector to make data-informed decisions by providing relevant, accurate, timely, and digital livestock data and analytics. Ultimately, the aLIVE program will support Ethiopia in meeting national food demands as well as achieving food security while building a robust, more independent economy.
December 2, 2022
Agriculture
November 29, 2022
Agriculture