Making South-South Cooperation Personal: A Learning Exchange Between Haiti and Côte d'Ivoire // Titre : Pour une coopération Sud-Sud personnalisée : Un échange de connaissances entre Haïti et la Côte d'Ivoire
July 24, 2019
Aid Management Program
Aid Effectiveness & Management, En Français, News/Events
"Knowledge sharing" is an undeniable buzzword in the international development space.
However, the idea behind it is both simple and effective: by sharing similar experiences and learning from one another, teams can develop practical solutions to challenges. Often, they also discover their challenges are not unique – across DG's global Aid Management Platform (AMP) network, our experience highlights how AMP country challenges and goals are often aligned.
At a wider scope, peer-to-peer learning often accompanies the financial and technical support that occurs among developing countries in the Global South, known widely as South-South Cooperation. While working to drive and facilitate greater South-South Cooperation in Haiti, we thought: why not start to drive progress close to home, with the team managing Haiti's Aid Management Platform (AMP)?
Bringing Haiti and Côte d'Ivoire Together
From April 15-19, the Haiti AMP team conducted a study tour to Abidjan, Côte d'Ivoire to collaborate with the CIV AMP team. The aim of Haiti's visit was to build on the CIV team's success using AMP, and for both teams to learn from each other.
The two teams spent time sharing their approaches and best practices, also collectively brainstorming how to adapt new ideas to each of their respective contexts. The visit was modeled on a similar, productive exchange between the Chad and Côte d'Ivoire teams in 2018 – another instance of AMP teams interacting and learning from each other directly.
Why these two countries, why now?
The idea to bring the teams together took root during the 2018 AMP Good Practices Workshop in Nairobi, where the two teams, along with five others, engaged during workshop sessions to share their goals, tools, and creative solutions to support management of their AMPs. Over the years, the AMP Workshop has been a global gathering point for AMP countries not only to compare and contrast platform management processes, but also to crowdsource solutions to shared challenges.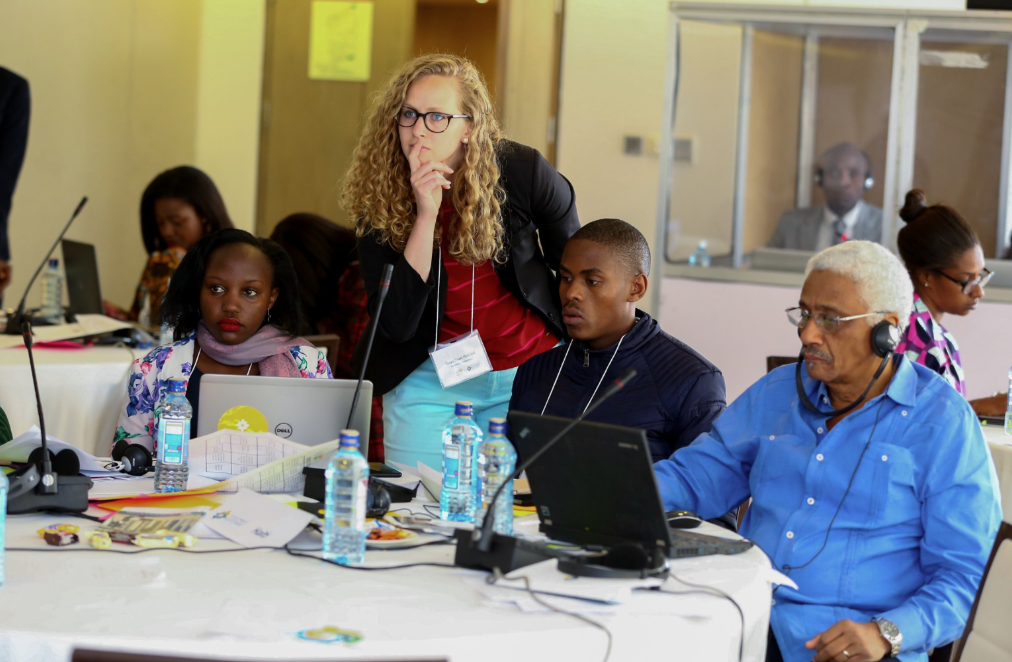 Figure 1: AMP teams working together at the 2018 AMP Good Practices workshop in Nairobi, Kenya
CIV has successfully managed its AMP for several years, and the team's presentation during the workshop highlighted concretely some of their solutions – such as coordinating stakeholders, and how they have creatively maintained critical relationships with government peers to continue strengthening AMP. After the workshop, the Haiti team noted its desire to discuss some of these solutions in more detail with CIV, as Haiti shares similar challenges in looking to:
Enhance development partner coordination;
Increase engagement between sector ministries; and
Improve overall awareness of the AMP both within and outside government.
Making In-Person Collaboration Valuable
To ensure the study visit had tangible value, the Haiti team worked with DG to develop a schedule reflective of its interest areas ahead of the visit, based in part on a similar agenda setting process DG led with the Chad team. Once in Abidjan, the two teams collaborated in person to further tailor the visit to specific needs.
The agenda included a mix of hands-on Q&A sessions, external meetings to engage with other Ivorian ministries such as the Ministry of Budget, and an exchange between the IT specialists from Haiti and CIV's Ministry of Finance, to dive deeper into technical questions.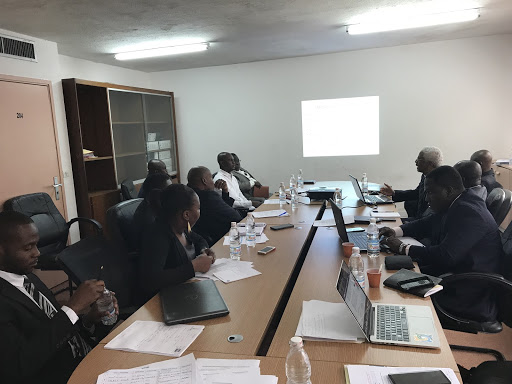 Figure 2: The Study Visit included presentations by both teams to compare internal processes
In the spirit of two-way collaboration, Haiti also shared its positive experiences with making the AMP available to the public via a public portal, which encouraged the CIV team to revisit the idea of opening up its own AMP to the Ivorian public.
Both teams were able to draw value and lessons from one another – essential to ensuring that collaboration is not just a one-off learning activity, but a continuous, mutually beneficial process.
Key Takeaways
Aside from benefiting from freeform exchange during the jointly-managed sessions, Haiti left the Study Visit with several action items to be completed in the coming months, bolstered by where the CIV team has succeeded with similar processes.
Haiti has renewed its focus on regularly developing communications materials (email blasts and periodic newsletters in PDF and print form) for internal and external audiences, and pushing to establish new relationships with permanent staff at development partner agencies. In doing so, the team will build its credibility and relationships to continue making AMP more useful, used, and effective.
Additionally, after seeing how CIV has managed their own server with few issues, the Haiti team is preparing to relocate its AMP server from DC to Haiti to manage its own server without DG's assistance.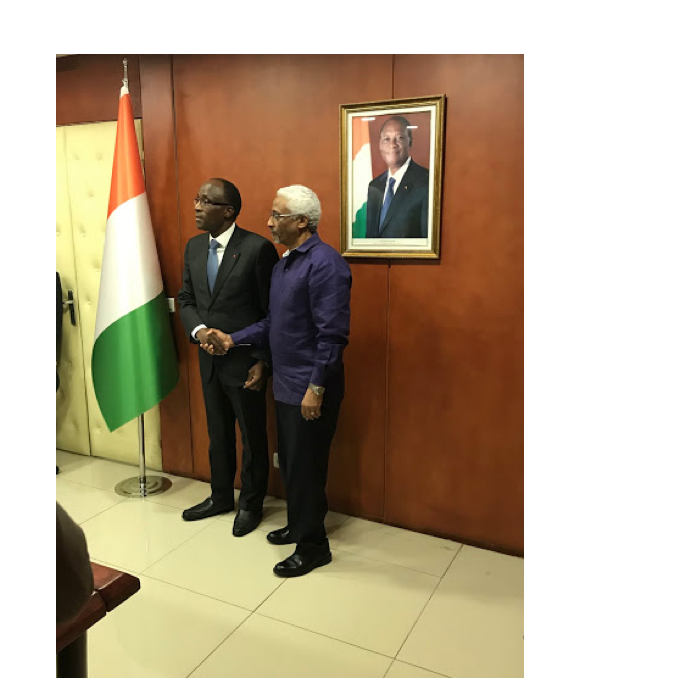 With inconsistent electricity and internet (among other issues), AMP teams can run into all kinds of everyday challenges maintaining their AMP platforms. Opportunities to share challenges and focus on what works, such as the Study Visit, can be critical and very influential for boosting morale – as DG has seen with Chad and now Haiti.
His Excellency Adama Kone, Minister of Finance and Economy of Côte d'Ivoire, further underscored the value of study exchanges, highlighting in an outgoing meeting the value he placed on opportunities for people of African descent to exchange ideas. The Haiti team left feeling encouraged, and reminded that they are not alone in the successes and struggles of making important data available to citizens. 
We look forward to continuing to support Haiti, CIV, Chad, and other AMP countries as valuable resources to strengthen global aid resource management. Knowledge flows in many directions, and we are excited to help reinforce South South Cooperation as a piece in the global push for aid effectiveness and open data.
Figure 3: H.E. Minister Adama Kone of the Ministry of Economy and Finance, Côte d'Ivoire and Mr. Marc Anglade, Director of CAED, Ministry of Planning, Haïti 
In the coming weeks, DG will be building communication and knowledge sharing among AMP countries through a quarterly AMP Newsletter, sharing AMP technical and implementation updates, challenge and success stories, and opportunities to engage with other AMP teams. Stay tuned for more!
________________________________________________
"Le partage de connaissances" est une expression à la mode  dans le domaine du développement international.
Cependant, l'idée sous-jacente est à la fois simple et efficace: en partageant des expériences similaires et en apprenant les unes des autres, les équipes peuvent développer des solutions pratiques pour relever les  défis. Souvent, elles découvrent également que leurs défis ne sont pas uniques – dans l'ensemble du réseau de la Plateforme de Gestion de l'Aide (PGA) de DG, notre expérience montre comment les défis et objectifs des pays PGA sont souvent alignés.
À plus grande échelle, l'apprentissage entre pairs accompagne souvent l'appui financier et technique apporté aux pays en développement du Sud, plus connu sous le nom de Coopération Sud-Sud. Tout en œuvrant à promouvoir et renforcer la coopération Sud-Sud en Haïti, nous nous sommes dit: pourquoi ne pas commencer à faire progresser les choses près de chez nous, avec l'équipe qui gère le Module de Gestion de l'Aide Externe (MGAE) en Haïti?
Réunir Haïti et la Côte d'Ivoire
Du 15 au 19 avril 2019, l'équipe PGA d'Haïti a effectué un voyage d'étude à Abidjan, en Côte d'Ivoire (CIV), afin de collaborer avec l'équipe PGA de CIV. L'objectif de la visite était de s'appuyer sur le succès de l'équipe de CIV avec la PGA et de permettre aux deux équipes d'apprendre l'une de l'autre.
Les deux équipes ont passé du temps à partager leurs approches et leurs meilleures pratiques, ainsi qu'à réfléchir collectivement à la manière d'adapter de nouvelles idées à chacun de leurs contextes respectifs. La visite s'est inspirée d'un échange similaire et productif entre les équipes du Tchad et de la Côte d'Ivoire en 2018 – un autre exemple d'interaction et d'apprentissage direct entre les équipes de la PGA.
Pourquoi ces deux pays, pourquoi maintenant?
L'idée de réunir les équipes a pris racine au cours de l'Atelier 2018 sur les bonnes pratiques PGA à Nairobi, où les deux équipes, ainsi que cinq autres, se sont engagées pendant les sessions à partager leurs objectifs, outils et solutions créatives pour soutenir la gestion de leurs PGAs. Au fil des ans, l'atelier PGA a été le point de rassemblement mondial pour les pays PGA non seulement pour comparer et contraster les processus de gestion de la plateforme, mais aussi pour trouver des solutions aux défis communs.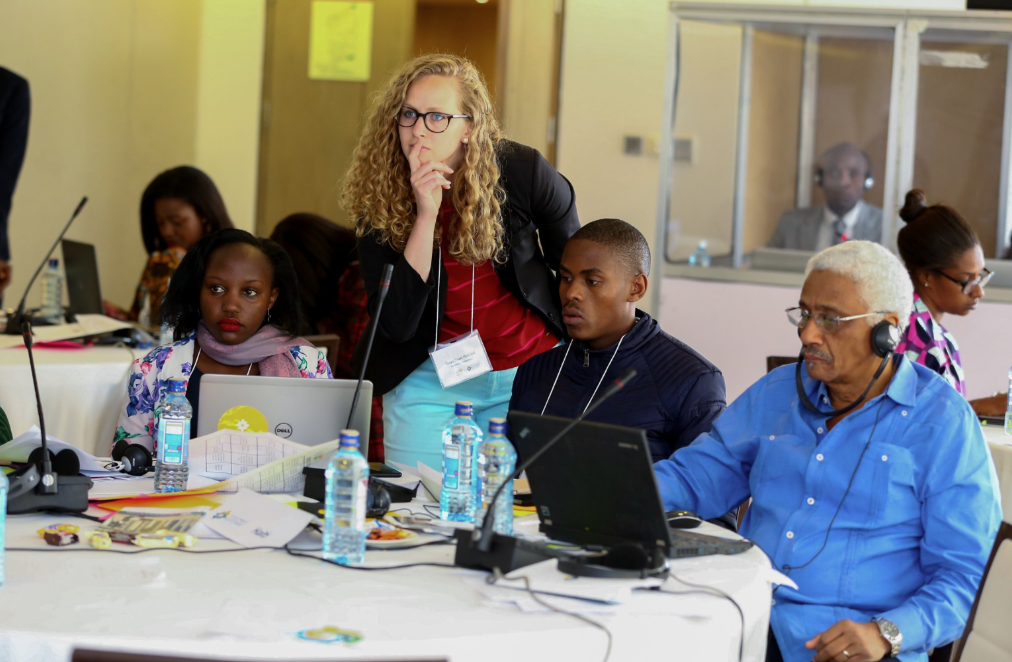 Les équipes PGA  travaillent ensemble à l'atelier 2018 sur les bonnes pratiques PGA à Nairobi, au Kenya
La Côte d'ivoire gère avec succès sa PGA depuis plusieurs années et la présentation de l'équipe lors de l'atelier a mis en lumière certaines de leurs solutions – telles que la coordination des parties prenantes et la manière dont elles ont maintenu des relations  cruciales avec leurs homologues du gouvernement afin de continuer à renforcer la PGA.
Après l'atelier, l'équipe d'Haïti a exprimé son désir de discuter, plus en détail, de certaines de ces solutions avec la CIV, car Haïti partage les mêmes défis, en cherchant à:
Améliorer la coordination des partenaires de développement;
Accroître l'engagement entre les ministères sectoriels; et
Améliorer la connaissance générale de la PGA tant au sein qu'à l'extérieur du gouvernement
Rendre la collaboration personnalisée précieuse
Pour que la visite d'étude ait une valeur tangible, l'équipe d'Haïti a travaillé avec DG, avant la visite, afin de développer un calendrier reflétant ses domaines d'intérêt, en partie basée sur un processus similaire de définition du programme que DG a mené avec l'équipe du Tchad. Une fois à Abidjan, les deux équipes ont collaboré pour adapter davantage la visite aux besoins spécifiques.
L'agenda  comprenait une série de séances de questions-réponses pratiques, des réunions externes avec d'autres ministères ivoiriens tels que le Ministère du budget, ainsi qu'un échange entre les informaticiens d'Haïti et le ministère des Finances de CIV, pour approfondir les questions techniques.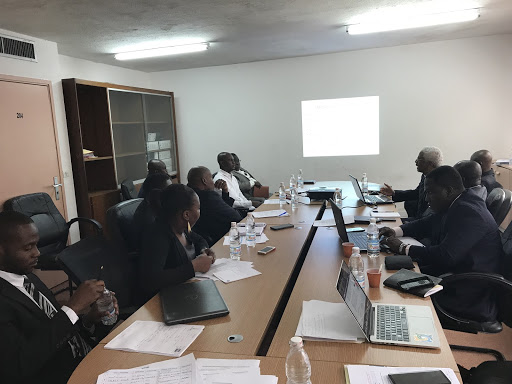 La visite d'étude comprenait des présentations des deux équipes pour comparer les processus internes
Dans un esprit de collaboration bilatérale, Haïti a également partagé ses expériences positives en matière de mise à la disposition du public de la PGA via un portail public, ce qui a encouragé l'équipe de la CIV à revisiter l'idée d'ouvrir sa propre PGA au public ivoirien.
Les deux équipes ont pu tirer des leçons des expériences de chacune – ce qui est essentiel pour s'assurer que la collaboration n'est pas seulement une activité d'apprentissage ponctuelle, mais un processus continu et mutuellement bénéfique.
Principaux points à retenir
En plus de bénéficier d'un échange libre au cours des sessions gérées conjointement, Haïti a conclu la visite d'étude avec plusieurs actions à mener dans les mois à venir, étayées par les succès obtenus par l'équipe de CIV grâce à des processus similaires.
Haïti a renouvelé ses efforts pour, développer régulièrement des supports de communication (envois de courriels et de bulletins d'information périodiques en format PDF et imprimé) destinés à des publics internes et externes, et s'efforcer d'établir de nouvelles relations avec le personnel permanent des agences partenaires au développement. Ce faisant, l'équipe renforcera sa crédibilité et ses relations pour continuer à rendre la PGA plus utile, plus utilisée et plus efficace.
De plus, après avoir constaté que la CIV gère son propre serveur avec peu de problèmes, l'équipe haïtienne se prépare à transférer son serveur PGA de Washington DC vers Haïti afin de gérer son propre serveur sans l'assistance de DG.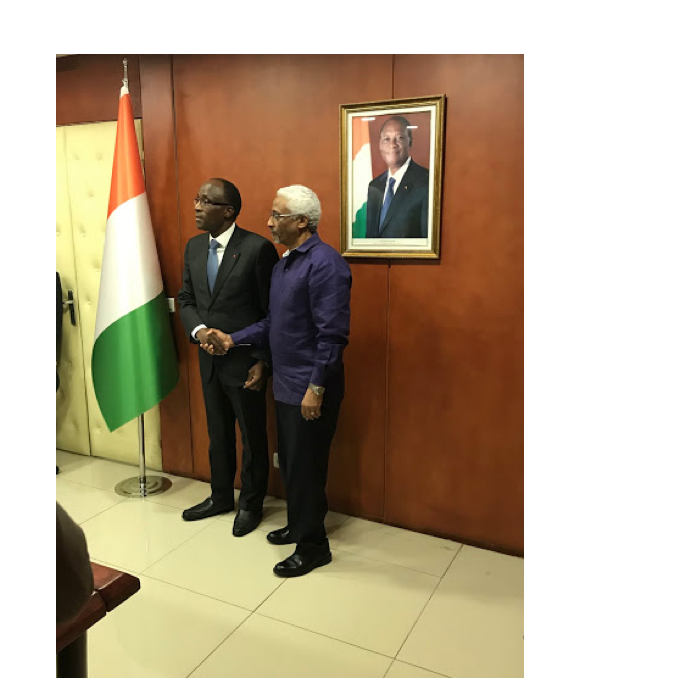 Avec l'inconsistence de l'électricité et d'Internet (entre autres problèmes), les équipes PGA peuvent faire face à toutes sortes de défis quotidiens pour maintenir leurs plates-formes PGA.
Les occasions de partager les défis et de se concentrer sur ce qui fonctionne, comme la visite d'étude, peuvent être essentielles et avoir une très grande influence pour redynamiser le moral – comme l'a constaté DG avec le Tchad et maintenant avec Haïti.
Son Excellence Adama Kone, Ministre de l'Economie et des Finances de la Côte d'Ivoire, a également souligné la valeur des échanges d'études, soulignant lors de la réunion de clôture la valeur qu'il accordait aux possibilités d'échange d'idées pour les personnes d'ascendance africaine.
L'équipe d'Haïti est repartie rassurée et a rappelé qu'elle n'était pas la seule à réussir et à lutter pour que des données importantes soient accessibles aux citoyens.
S.E.  Ministre Adama Kone du Ministère de l'Economie et de Finances, Côte d'Ivoire et M. Marc Anglade, Directeur du CAED, Ministère de la Planification, Haïti 
Nous nous réjouissons à l'idée de continuer à soutenir Haïti, la CIV, le Tchad et nos autres pays PGA à travers l'entraide mutuelle, une ressource précieuse pour renforcer la gestion des ressources de l'aide au niveau mondial. Le savoir circule dans plusieurs directions, et nous sommes ravis de contribuer à renforcer la coopération Sud-Sud en tant que composante essentielle de la campagne mondiale en faveur de l'efficacité de l'aide et des données ouvertes.
Dans les prochaines semaines, DG renforcera la communication et le partage des connaissances entre les pays PGA par le biais d'un bulletin trimestriel PGA, le partage des mises à jour techniques et de mise en œuvre de la PGA, des histoires sur les défis et  succès, et des opportunités de dialogue avec d'autres équipes PGA. Suivez-nous pour plus d'informations!
Related from our library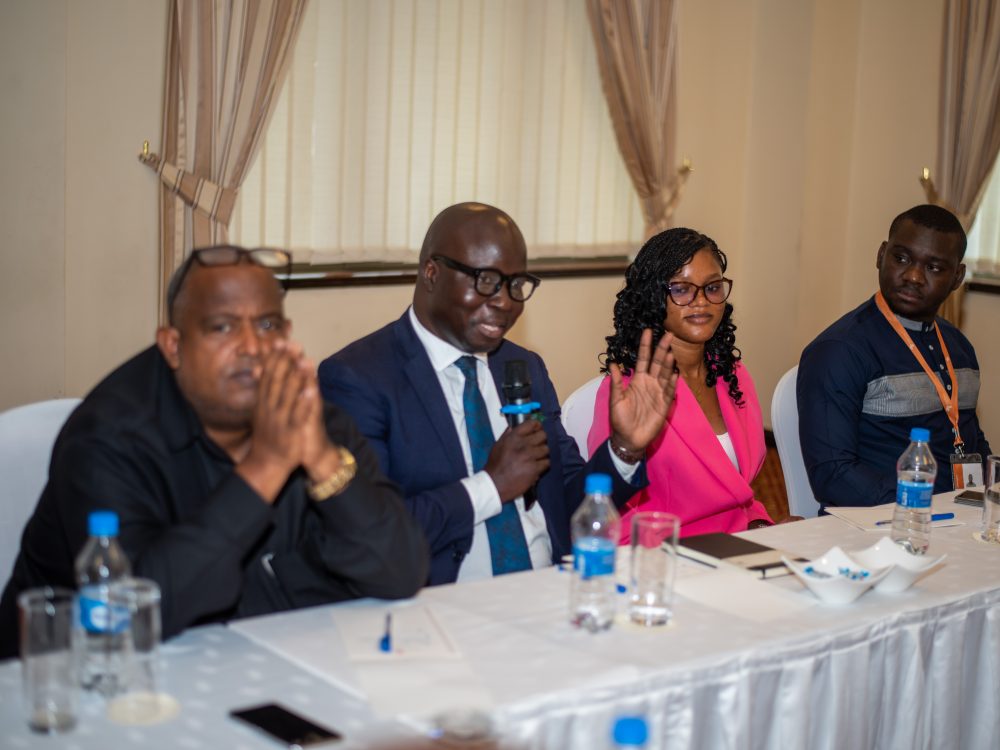 Development Gateway: An IREX Venture (DG) hosted a discussion titled "Transforming Food Systems: The Power of Interoperability and Partnerships" at both Africa Food Systems Forum (AGRF) 2023 and the recently concluded ICT4Ag conference. Discussions from these critical events revolved around key themes crucial to DG's ongoing work, including connecting people, institutions, partners, and systems when we think about technology working at scale to transform agriculture. In this blog, we explore three key takeaways from these conversations.
November 16, 2023
Agriculture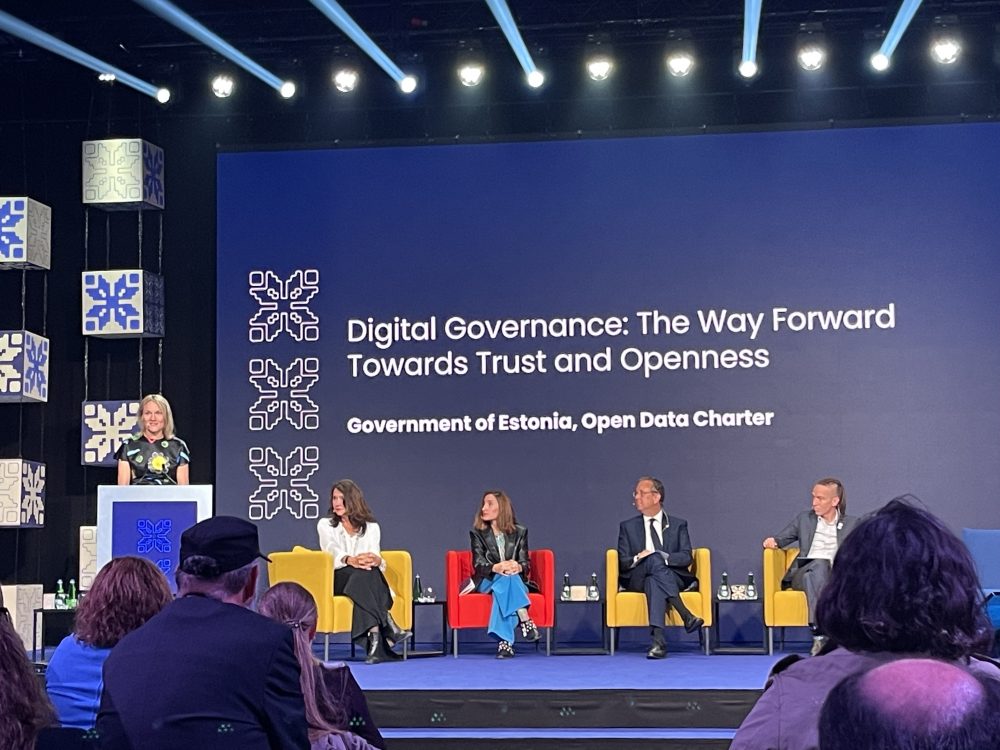 The 2023 OGP Summit in Tallinn, Estonia featured a number of discussions centered on open government in the digital age. While the use of digital tools in government is far from a new idea, the COVID-19 pandemic spurred a rapid expansion of this practice, with leaders quickly adapting to remote environments through digitizing government processes
September 19, 2023
Global Data Policy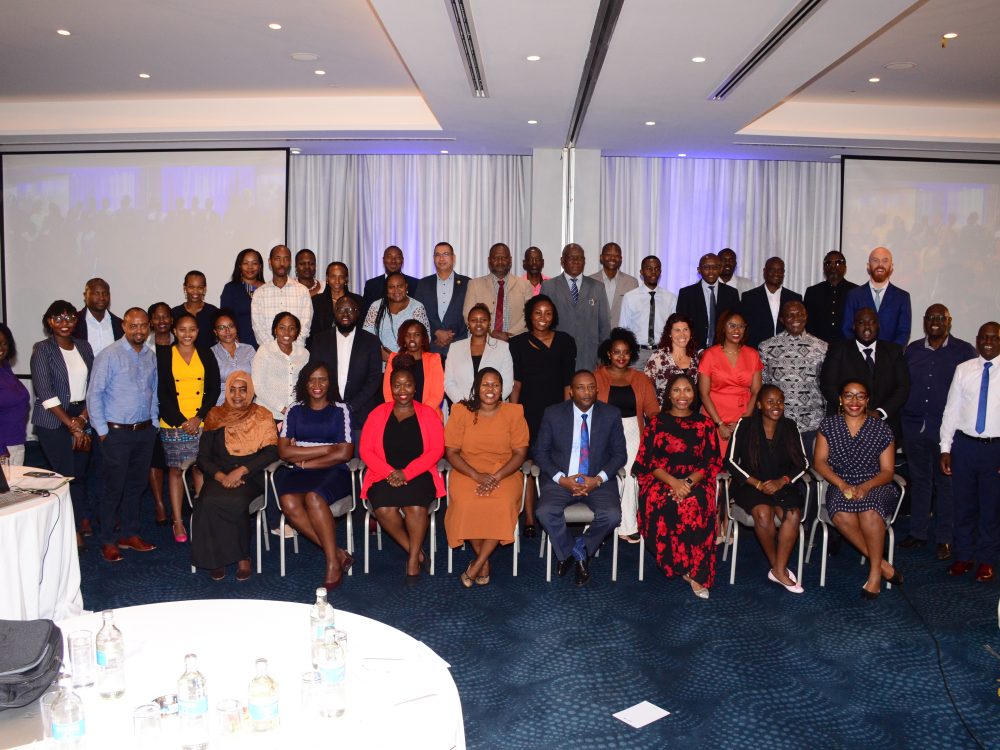 With the aim of improving the efficiency of agriculture data use, Development Gateway: An IREX Venture (DG), Jengalab, and TechChange—with a grant from the International Fund for Agricultural Development (IFAD)—recently held a learning event, titled "Digital Agriculture: Building the Agricultural Systems of Tomorrow," in Nairobi, Kenya. Participants identified two key recommendations for advancing digital agriculture in order to increase food security.
August 29, 2023
Agriculture