MapAfrica: Interactive Dashboard for the African Development Bank's Portfolio
MapAfrica displays the African Development Bank's full portfolio of work across the continent – developed by DG and launched in 2014 to enable citizens, governments, and donors access to information about AfDB's investments. In 2016, we updated and re-engineered the system (MapAfrica 2.0), and from 2017-2019, we made improvements to the geocoder, created a tool to add country briefs and results stories, and enabled AfDB to sustain the system itself.
"This dynamic tool enables the Bank to provide transparent and equal access to its work across Africa. It is an effort to showcase our results and to track our projects on the ground."
Phase I
In the initial phase of MapAfrica development, DG completed full geocoding of AfDB's entire ongoing aid portfolio. We also developed a prototype interactive map which was presented at the World Bank's Annual Meetings, ADF Mid-Term Review, and the ADF replenishment meetings. We also completed a technical assessment for the integration of geocoding and geo-visualization tools with the Bank's IT infrastructure. 
We then launched the full MapAfrica interactive map dashboard (MapAfrica).
Phase II
In 2016, we re-engineered the system (MapAfrica 2.0) with simplicity and efficiency in mind. We fully integrated the map into the Bank's online system, added 70 project stories and designs, 200+ updated project locations, enabled mobile browsing, and aligned the map with AfDB's High Five priorities.
MapAfrica 2.0 underscores project relationships to AfDB's High 5 Priority Areas – which were developed in line with both the Bank's Ten Year Strategy and the SDGs.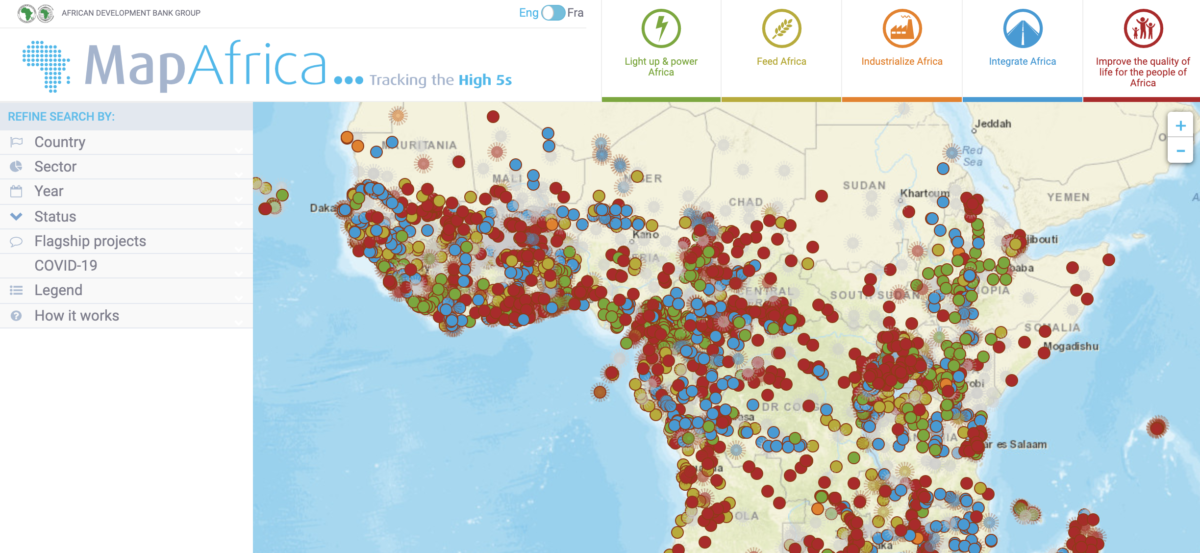 Phase III 
In 2017, we made improvements to the geocoder for AfDB to geocode its own projects, created a back-end for MapAfrica including a tool to create and add country briefs and results stories, added the country stories and additional visual access to the stories from MapAfrica, moved hosting over to AfDB's own server, and trained the IT team on how to maintain MapAfrica and the Geocoder tool.
Where is MapAfrica now?
AfDB can regularly add country results stories in English and French, manage lists and users, access individual projects in AfDB's Data Portal from MapAfrica, and more. We updated the design, linked it with the Data Portal, translated the interface into French, and the AfDB team is fully maintaining and operating the system.