Understanding Fertilizer Data
August 19, 2020
Agriculture
Vinisha Bhatia-Murdach
Scott is a senior agriculture development expert and a Senior Fertilizer Advisor to the VIFAA program. He has been advising DG since 2017. Vinisha Bhatia-Murdach is Senior Learning Advisor and has been with DG since 2015.
The Visualizing Insights on Fertilizer for African Agriculture (VIFAA) program is working towards making fertilizer-related data, a key subset of agriculture data, more accessible to stakeholders for decision making.
Finding reliable agriculture data in Sub-Saharan Africa is often a difficult undertaking. If available at all, data is usually fragmented and tucked away in silos within government ministries or closely held by private companies. It is also significantly delayed or in a format that makes analysis difficult. For stakeholders in the agriculture value chain, who need information about the market for decision making, a lack of reliable data is a significant barrier.
At the same time, agriculture is a key source of livelihood in Sub-Saharan Africa. 33 million smallholder farmers – who make up approximately 80% of the population – need agriculture inputs such as tools, seeds, and fertilizer in order to produce a viable crop that they can sell in the marketplace. As fertilizer is the most expensive agricultural input for the farmer, making sure they have the right type of fertilizer, at the best price, and that it is available at the right time – is critical. Currently, not a single country in Sub-Saharan Africa is self-reliant on the primary nutrients needed for crops to grow (nitrogen, phosphorus, and potassium). Thus decisions on when to import and how much fertilizer to import needs to be made months before the rains come, since very few farmers in SSA have access to irrigation and they are reliant on the annual rains to water their crops.
The VIFAA Program aims to close key information gaps for fertilizer stakeholders in our focus countries of Kenya, Nigeria, and Ghana. By September 2020, the VIFAA team will launch its first dashboard focusing on Kenya's fertilizer sector. It will cover four main areas of fertilizer information: price, consumption, availability, and policy. The ultimate goal of the VIFAA program is to support data use for decision making, and by extension to support smallholder farmers better access and use fertilizer they need.
In order to achieve these goals, VIFAA started with in-depth assessments in several African countries. We spoke with nearly 100 stakeholders to understand their priorities, how to turn those priorities into indicators, and then we set out to co-design the dashboard.
The assessment confirmed some of what we knew. From a perspective of 30,000 feet, the most important fertilizer indicator is the average consumption of fertilizer per area of cropland – Kilograms per Hectare (Kg/Ha) – which highlights how much fertilizer is actually being used in the field. In 2006, the Abuja Declaration on Fertilizer for an African Green Revolution set 50 kg/ha as the primary target to reach (we will talk more about this indicator and the current levels in technical detail throughout this series). This average fertilizer consumption indicator, Kg/ha, serves as a high-level target, but to understand what factors are contributing to this consumption rate requires additional information. Based on the public and private sector stakeholder feedback, VIFAA has categorized this information under four themes:
Price How much does fertilizer cost throughout the entirety of the value chain?
Availability How much product is actually available in the country?
Fertilizer Use What types of products are farmers applying and which crops?
Policy What is the policy environment and considerations around fertilizer that impact the factors above?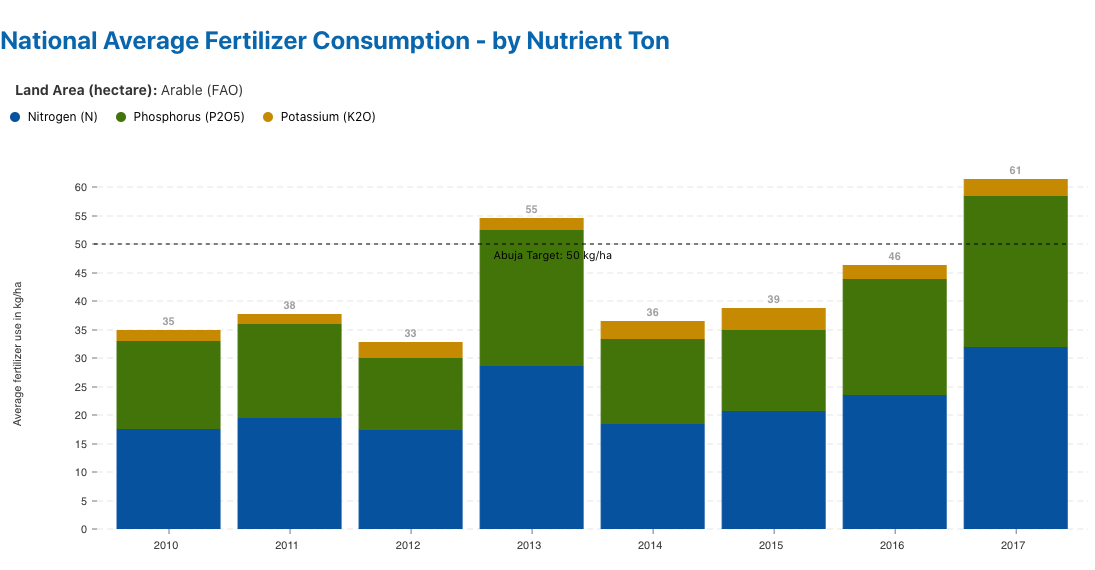 While DG has expertise in increasing data use and a background in agricultural projects, it was crucial to build a more specific skillset through partnership – specifically a partner with expertise in fertilizer data. We realized that the International Fertilizer Development Center's (IFDC) Africafertilizer.org (AFO) initiative was well-positioned to strengthen existing fertilizer data sets, while making them more accessible to decision-makers. This was a perfect marriage as AFO has been collecting data but did not have the required expertise to ensure it was accessible and presented in a way that ensures stakeholders will use it. Together DG and AFO and jointly convened the potential public and private sector users of this data in Kenya, Nigeria, and Ghana. Through a series of workshops, we worked to define priority indicators within the themes listed above, and to co-design dashboard visualizations to meet the needs of the wide variety of fertilizer data users, all while ensuring the variation required to meet each country's specific market needs. Over the next few weeks, look for more blogs as we tell the story of the VIFAA fertilizer dashboards, their data, and their use.
VIFAA Going Forward
In November 2022, AfricaFertilizer (AFO), our partner on the Visualizing Insights on Fertilizer for African Agriculture (VIFAA) program, rebranded and launched a new website. This website includes the integration of country-specific VIFAA dashboards, which were previously housed in separate websites. By integrating the country-specific dashboards as well as fertilizer data on trade, production, consumption, and retail prices for 18 countries in sub-Saharan Africa, the new AFO data allows easier comparative analysis across countries and contributes its quota to the advancement of food security throughout Africa. 
We have updated the previous country-specific dashboards links to now redirect you to AFO's new website in order to ensure you are accessing the most up-to-date resources.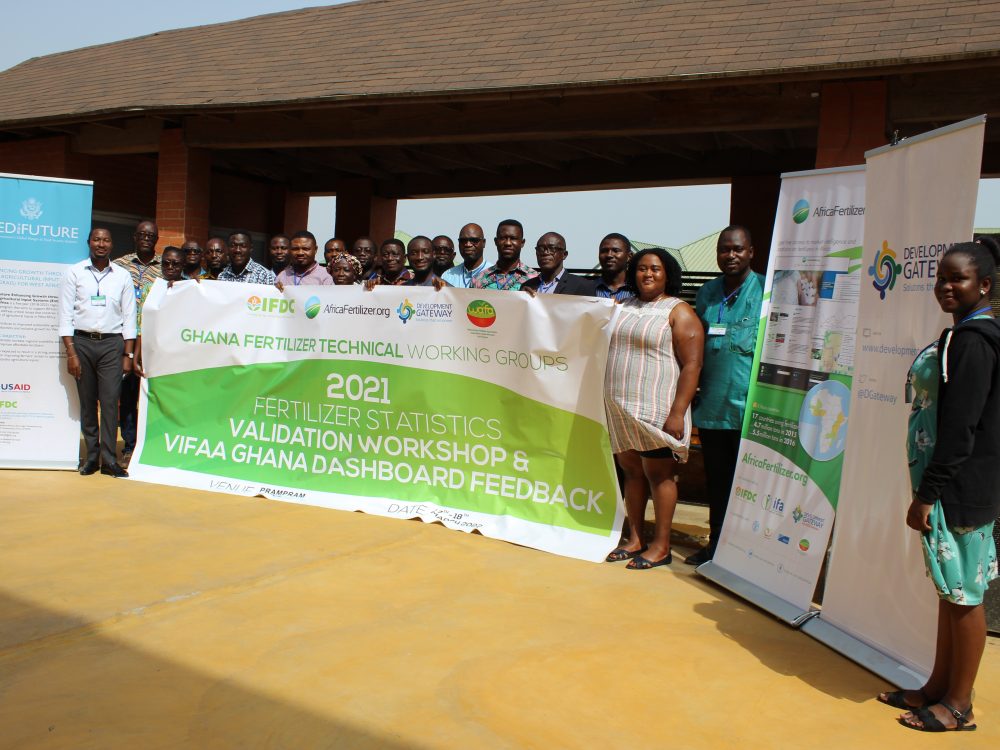 From June 2021 to September 2022, Development Gateway: An IREX Venture's (DG's) Visualizing Insights on Fertilizer for African Agriculture (VIFAA) program convened 12 Fertilizer Technical Working Groups in 14 countries which have yielded essential information on Africa's fertilizer sector, including insights on how geopolitical events have impacted the fertilizer sector and what is needed to mitigate resulting threats to food security throughout Africa.
November 29, 2022
Agriculture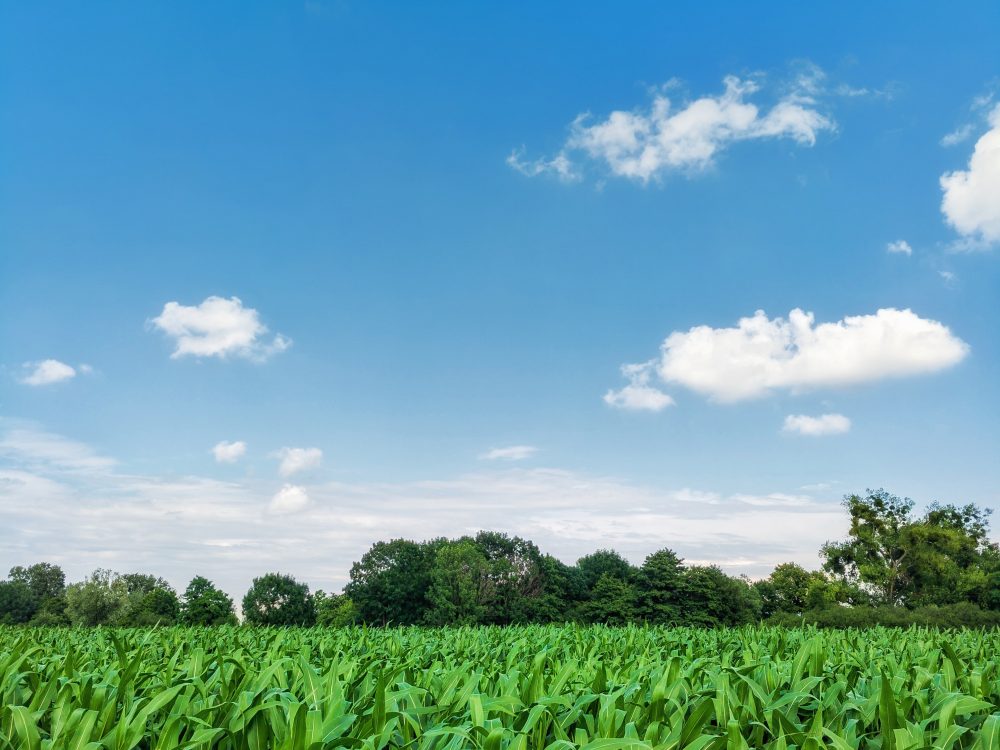 In their second blog exploring Nigeria's changing fertilizer market, Vinisha Bhatia-Murdach and Scott Wallace dive deep into the details of the NPK fertilizer market and explore how Nigeria became a leader in this space. They also discuss why the VIFAA Nigeria dashboard is an important part of ensuring access to information at each point in fertilizer supply chain.
October 4, 2022
Agriculture