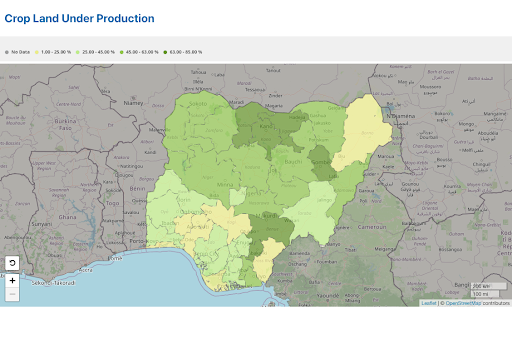 Decision-Making: from Soil to Farmers
September 2, 2021
Agriculture
Lindsey Fincham, Seember Ali, Beverley Hatcher-Mbu
Crop Yields and Food Security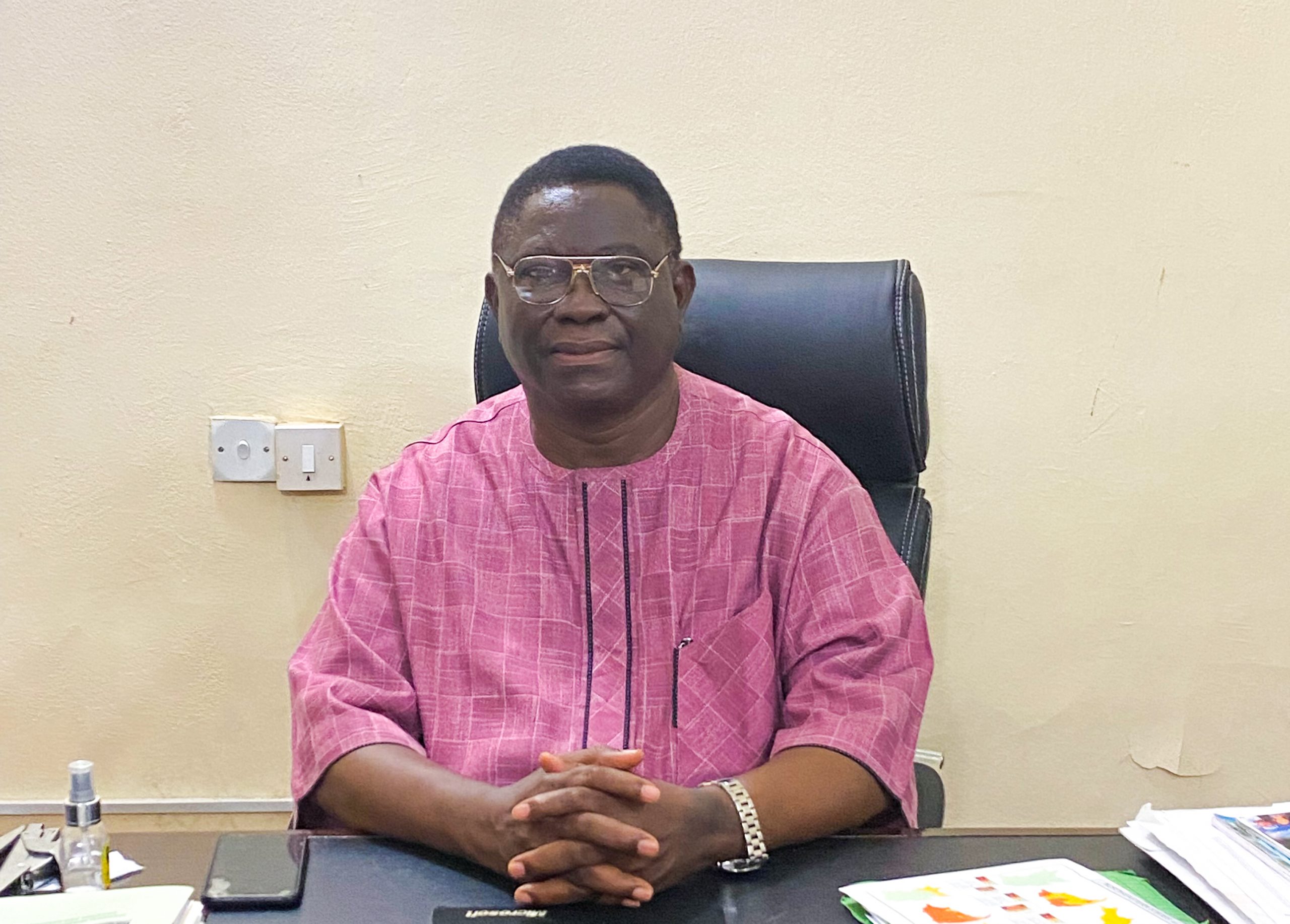 There are 17 nutrients required for plant growth with (N) nitrogen, (P) phosphorus, and (K) potassium serving as the essential trio. In Nigeria, there is a drive to produce and use more region and crop-specific fertilizers in an effort to increase crop yields and food security. Professor Victor Okechukwu Chude is the Registrar/CEO of Nigeria Institute of Soil Science (NISS), where his work centers on these issues. His passion for agriculture is derived from working with his grandfather on the family's farm; and has been driven by the desire to produce food for his family and for the rest of Nigeria. In his role, Professor Chude focuses on soil fertility, plant nutrition, and promoting the sustainable management of Nigerian soils. NISS sees soil science as a way to ensure environmental sustainability, high agricultural productivity, and food security in the country.
Unreliable Data
Professor Chude explained that sourcing data in Nigeria can be a herculean task. He often relies on data derived from student works and research, FAO Stats, and internet research. "It's tough… students know that their degree is dependant on reliable data, but some of the data that is out there is not reliable."
For Professor Chude, another consideration is producing data and analysis that can be understood by the end-users, often agricultural extension agents or farmers. Using raw data can be a challenge, specifically when working with constituents with lower data literacy. "Data sometimes looks so complicated, you wonder where to start and how [to] figure it out." 
Integrating Visuals and Analysis
The VIFAA Nigeria Dashboard was co-designed by Development Gateway and AfricaFertilizer.org (a project of IFDC),  in conjunction with stakeholders like Professor Chude and NISS. Built on trusted data validated by Nigeria's Fertilizer Working Group, the dashboard displays fourteen indicators including apparent consumption, price, availability, and a searchable plant directory. Additionally, this information has been overlaid on the cropland under production map, which is the first cropland mapping in Nigeria since 1973. 
In encouraging farmers to use fertilizer, Professor Chude described the need for information on the prices of various products, fertilizer use, fertilizer availability, and crop-specific fertilizers. This information feeds into decision-making at NISS and at the regional or individual levels.
Transforming Decision-Making
Professor Chude describes the dashboard in terms of improvement to efficiency. First, because much of the analysis has already been done and is being visualized on the dashboard, which saves significant staff time and reduces calculation errors. It also improves the ease of doing business through increased knowledge. The dashboard also reduces barriers to collaboration for partners by increasing the compatibility of the data. 
He also sees the benefit to farmers questioning which products to use. The dashboard is highly visual. It shows the value of fertilizer and how it can impact a farmer's income. Extension agents, who are already trusted by the farmers, can explain the benefits and leave easy-to-understand data visualizations with the farmers, which can "become very impactful."
Overall, Professor Chude sees the value in the way data has been transformed on the dashboard. It increases his ability to make decisions and scale specific projects. "This [dashboard] is highly commendable. It is easy to use and contains a lot of useful and helpful data. it will enhance our work as soil scientists and extension agents in making recommendations."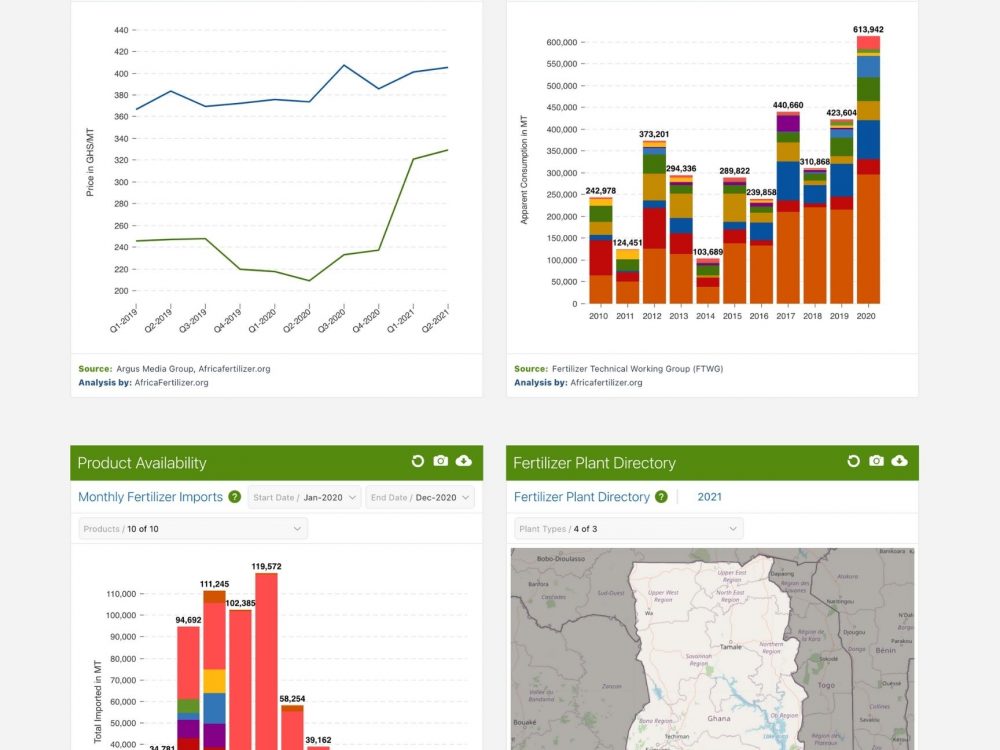 In looking at the data and talking to stakeholders in Ghana, several key trends are starting to emerge in the country's fertilizer market and in turn through the data captured in the VIFAA Ghana Dashboard. These trends are important for decision-makers planning for each season, and when thinking about the future of the market. In this blog we'll dive into these features of the Ghana market, including where (and how) the data fits in.
November 11, 2021
Agriculture
November 3, 2021
Agriculture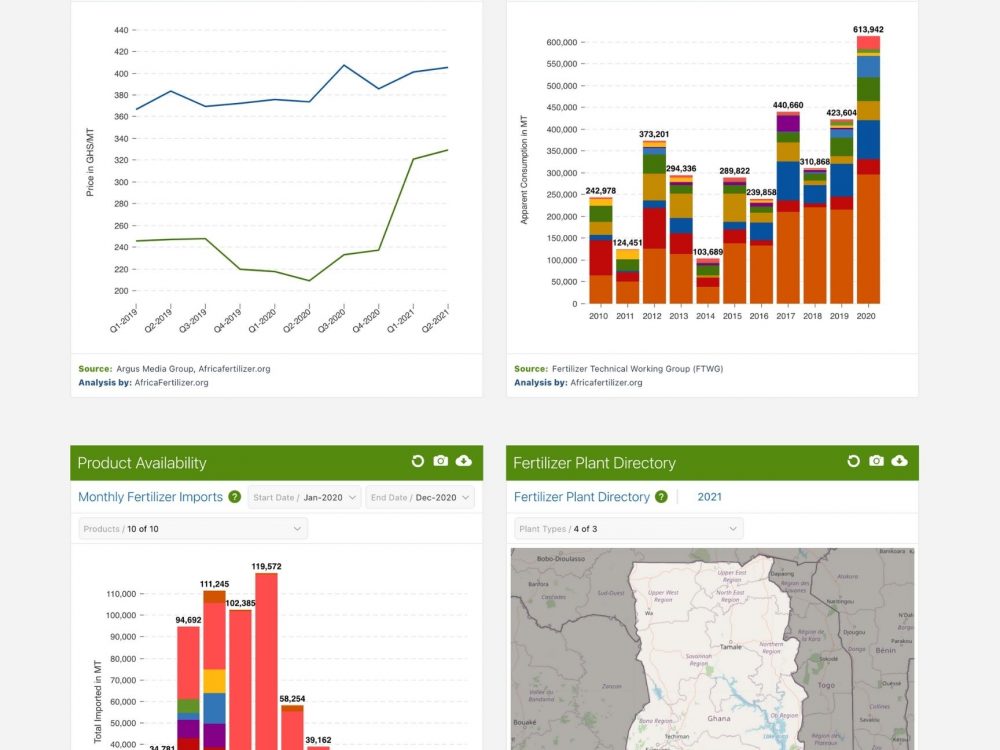 Launching this week, the VIFAA Ghana Fertilizer Dashboard aims to fill key fertilizer information gaps, increase data-driven policy and investment decisions in the fertilizer sector, and develop comprehensive, user-centered fertilizer data dashboards. Here is a deep dive into what is visualized on the dashboard.