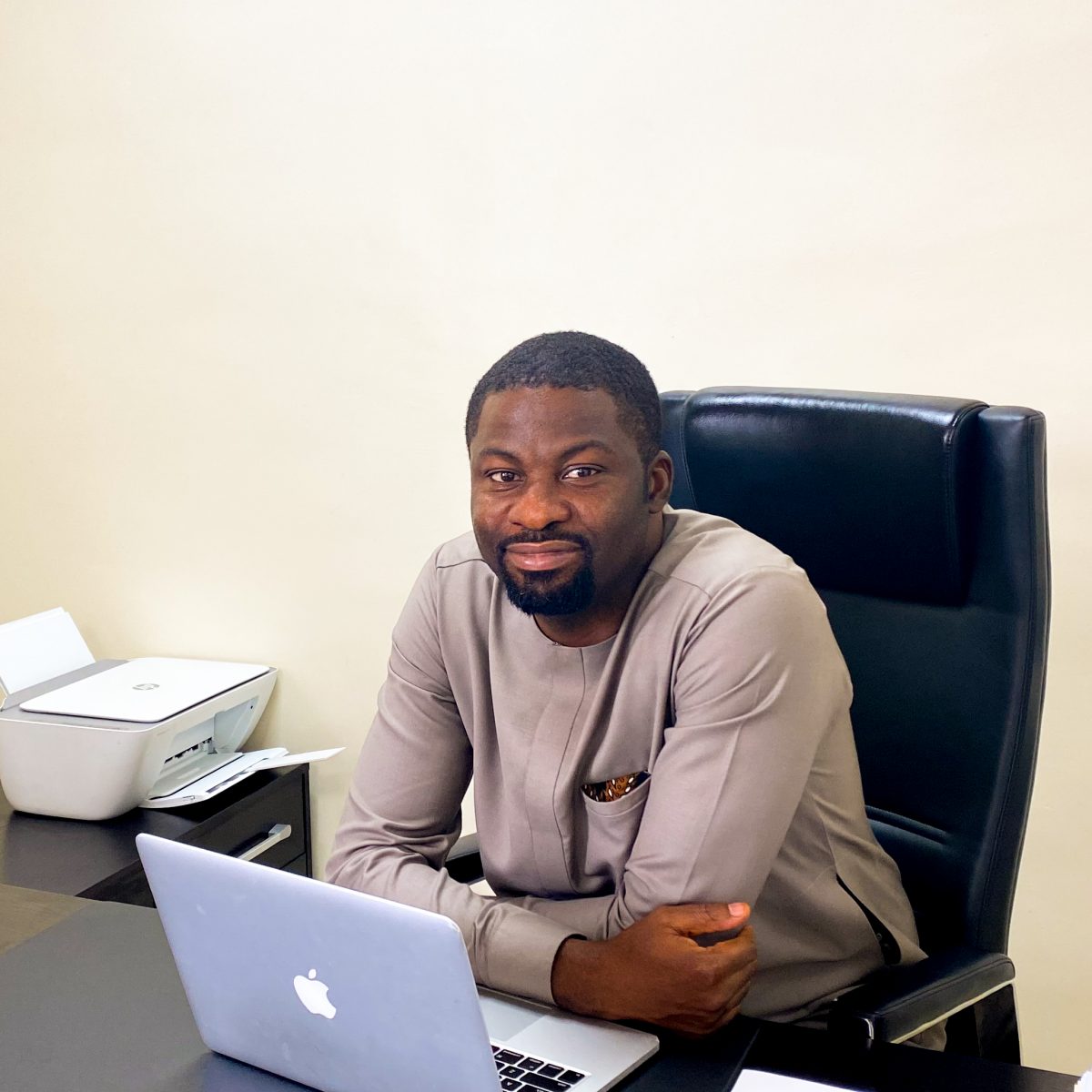 From Rumors to Evidence-Based Advocacy
Lindsey Fincham, Seember Ali, Beverley Hatcher-Mbu
A Changing Fertilizer Sector
In the last decade, there has been over $7 billion worth of private-sector investments into Nigeria's agriculture sector, 95% coming from the fertilizer sector. The fertilizer market in Nigeria is rapidly changing. In the past few years, Nigeria has gone from 2-3 fertilizer producers and blending plants to over fifty.
Mr. Gideon Negedu is the Executive Secretary of The Fertilizer Producers & Suppliers Association of Nigeria (FEPSAN.) He describes feeling called to work in agriculture, as a place where one can be both passionate and profitable. Specifically that, "there is a way to make an impact directly to the people. Given that 90% of [farmers in Nigeria] are smallholder farmers, with a little innovation we could lift people out of poverty."
FEPSAN is a national trade association representing the needs and interests of fertilizer manufacturers, blending plants, major distributors, dealers, and farmers in the country. At FEPSAN, Mr. Negedu works directly with the association members, many of whom are newly emerging actors, to expand the fertilizer sector – making it more investment and market-driven.
Using Rumors for Planning
Mr. Negedu describes the paucity of data in the fertilizer sector and making do with what data was available, however limited. In the past, both he and his members relied on rumors and hearsay for information about markets, opportunities, and even crop varieties. One goal to improve agricultural outputs is increased region and crop-specific fertilizers; but as Mr. Negedu explains, "you can't really [target a region or crop] if you don't have information… It is all rumors. 'Everybody says in place X they grow a lot of corn,' so you set up a blending plant only to learn that the market is not there, it is actually in town Y… But you have to work with what you have." 
Additionally, the fertilizer sector has shifted from a heavily subsidized, public procurement and tender heavy space to a more market-driven approach. For the members of FEPSAN looking to invest in the market by building production or manufacturing plants, having the correct information is crucial.
Developing the Dashboard
The VIFAA Nigeria Dashboard was co-designed by Development Gateway and AfricaFertilizer.org (a project of IFDC),  in conjunction with stakeholders like Mr. Negedu and FEPSAN. Built on trusted data validated by Nigeria's Fertilizer Working Group, the dashboard displays fourteen indicators including apparent consumption, price, availability, and a searchable plant directory. Additionally, this information has been overlaid on the cropland under production map, which is the first cropland mapping in Nigeria since 1973. 
Mr. Negedu first heard about the dashboard two years ago, and while he was interested, it seemed lofty and not realistic. Over time, working with the VIFAA team, getting a sense of the methodology and process, he started to understand that it was something serious. Looking at the final product, Mr. Negedu says that the dashboard is a "goldmine" of planning data for FEPSAN's members.
Building toward Data-Driven Decisions and Evidence-Based Advocacy
For FEPSAN, price data is the most important feature of the dashboard. Nigeria is not completely self-sufficient and continues to import some of the key raw materials needed to make a complete fertilizer blend. The cost information, specifically granular information about what goes into the cost chain buildup (transportation, logistics, etc.) and the interplay with the final price is very useful in helping blenders to plan. 
He also expressed that there is not enough evidence-based advocacy in Nigeria. Through the data validation process, the private and public sectors have both bought into a baseline of information, which is now presented on the Dashboard. Building toward a more market-driven approach came about by advocating to the government and showing that some of the interventions in place disincentivized the private sector. This dashboard and it's trusted data strengthen FEPSAN's evidence-based advocacy. Mr. Negedu explained, "[The benefit is] not just to our members, there is value for us in our advocacy… on the issues for the fertilizer industry."
The shift from hearsay to data-driven decision-making has been a herculean task. Mr. Negedu sees tremendous value in the VIFAA Dashboard. He said, "seeing [the data] and visualizing it is fantastic! It is very good to see where production plants are and where blending plants are in just one click. That information overlaid on where the market is, the production data around farming… I can't emphasize enough – there is value in what we are seeing."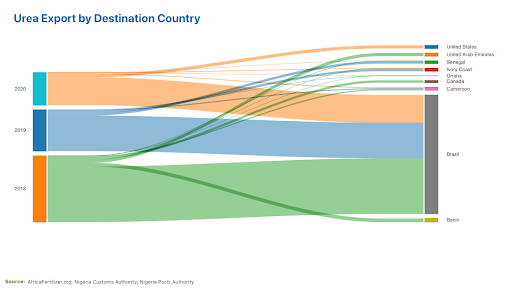 Since 2017, Development Gateway and partners have been working on the Visualizing Insights on Fertilizer for African Agriculture (VIFAA) Program to support development partners and the private sector to respond to changes in the fertilizer market, ensuring that sufficient quantities and appropriate fertilizers reach farmers at the right time for planting. Recently, DG received funding to expand the program to include four to six additional countries through 2023.
February 16, 2022
Agriculture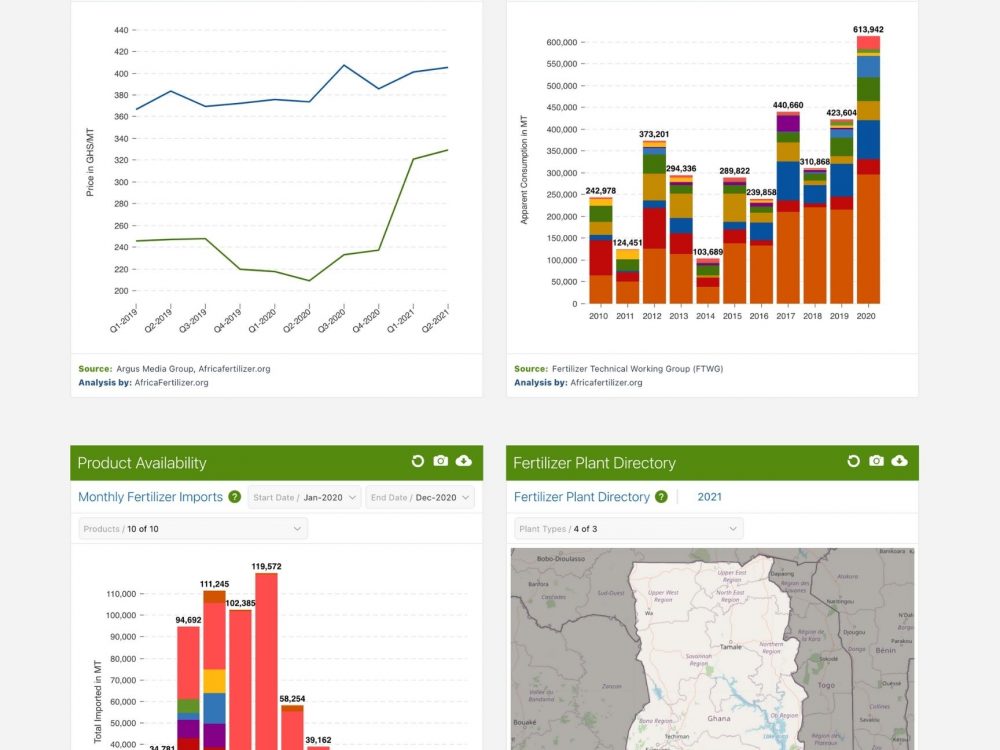 In looking at the data and talking to stakeholders in Ghana, several key trends are starting to emerge in the country's fertilizer market and in turn through the data captured in the VIFAA Ghana Dashboard. These trends are important for decision-makers planning for each season, and when thinking about the future of the market. In this blog we'll dive into these features of the Ghana market, including where (and how) the data fits in.
November 11, 2021
Agriculture
November 3, 2021
Agriculture