UNICEF Countdown to 2030 Country Profiles, Dashboard, and Design Updates
UNICEF is a key partner in the Countdown to 2030 (CD2030) initiative, a global movement that aims to accelerate achieving the SDGs for ending preventable maternal, newborn, and child deaths. For the initiative, DG built high-quality, individual country profiles for 127 countries, and accompanying interactive data dashboards. 
2017 - Present
Advise, Build
Visualizing Women's, Children's, and Adolescents' Health
To support UNICEF's work, DG created high-quality, visually compelling country profiles for each of the Count Down to 2030 focus countries and an accompanying interactive data dashboard.
UNICEF Countdown to 2030 Country Profiles and Dashboard Timeline
To ensure accuracy and sustainability of the data, DG is now (1) updating the site's technical connections to point to a new data source for the website and (2) providing design expertise to ensure data updated by UNICEF is displaying correctly. Below is an introduction to DG's role in the CD2030 initiative since 2017:
DG built the CD2030 country profiles and dashboard. The profiles are pre-structured and template-based, are maximally automatized; and include high-quality design. The online dashboard includes interactive and visually appealing charts, graphs, and visualizations; advanced filters and aggregation options, and the ability to benchmark countries and explore over time and by indicator.
Working from co-developed requirements, DG developed detailed wireframes, including suggested updates and improvements for graphing key indicators so they are clear and compelling. DG also developed three alternate graphic design concepts for the interactive dashboard.
DG built a modern, dynamic front end for a web tool that includes print-ready profile downloads, indicator benchmarking, and time series data. Both the profiles and the dashboard draw on an API featuring 70+ public health indicators, in seven distinct categories.
In 2019, DG updated the existing 81 individual country profiles and accompanying interactive dashboard and developed profiles for an additional 56 countries. Profiles and dashboards have been generated for all 137 low- and middle-income countries.
DG built the additional countries into the existing platform, ensuring that all recent data uploaded for all 137 countries displayed effectively.
In addition to incorporating new countries, the team designed a new layout for one category of indicators that refers to policy, governance, and financing. That design underwent two rounds of iteration and was then incorporated across all country profiles and dashboards.
In 2020, DG was contracted to update all 137 countries' data to ensure all 2020 data is accurate and uploaded.
In this phase, DG focused on ensuring all 2020 data was accurately incorporated into the website to ensure the continued accuracy, sustainability, and usefulness of the Countdown to 2030 country profiles and dashboards.
DG also updated the data source to UNICEF's new helix database so that upcoming data updates are accurately pulled from the most up-to-date database.
DG and UNICEF's Lasting Partnership
DG has a strong history of working closely with UNICEF, including building data visualizations for the Countdown to 2030 (CD2030) initiative and partnering to roll out the organization's Data for Children Strategic Framework across three regions, ten countries, and headquarters.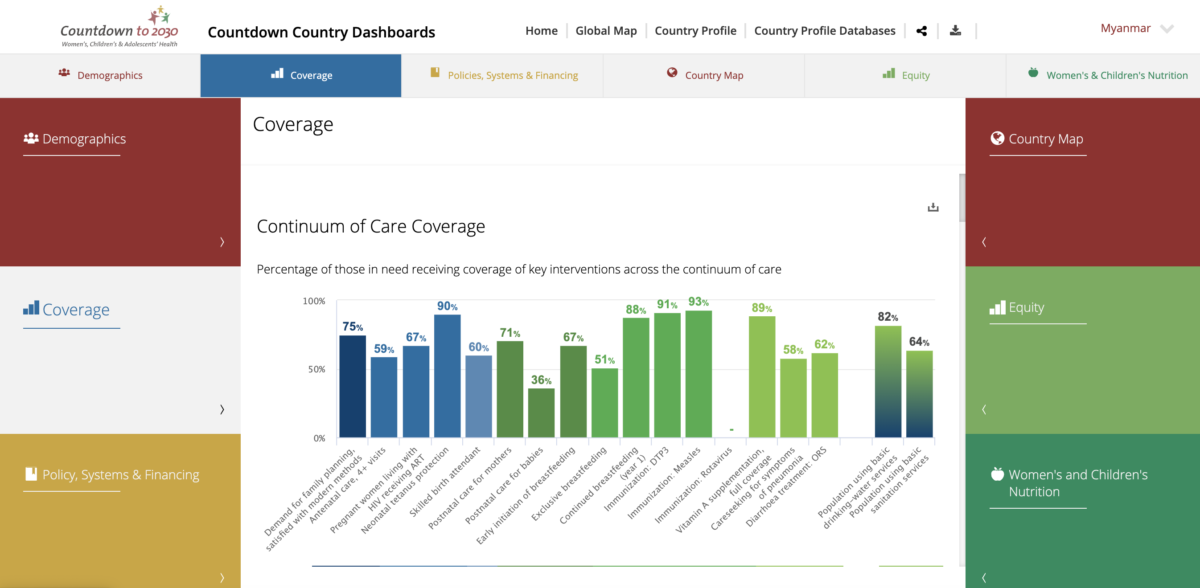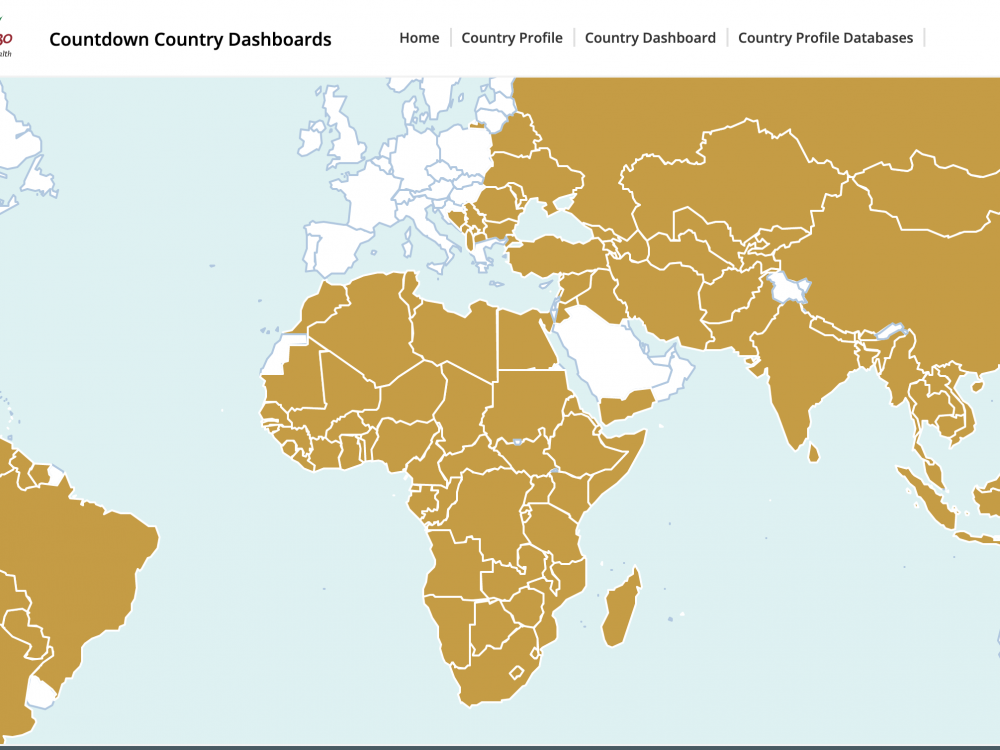 In 2020, we sought to answer a pivotal question: what are the good practices and lessons learned from the many existing women's, children's, and adolescent's health data visualization tools? In partnership with UNICEF, DG worked to identify good practices, as well as to determine any differences for emergency-focused data visualization tools, using COVID-19 as a test case.
April 26, 2021
Global Data Policy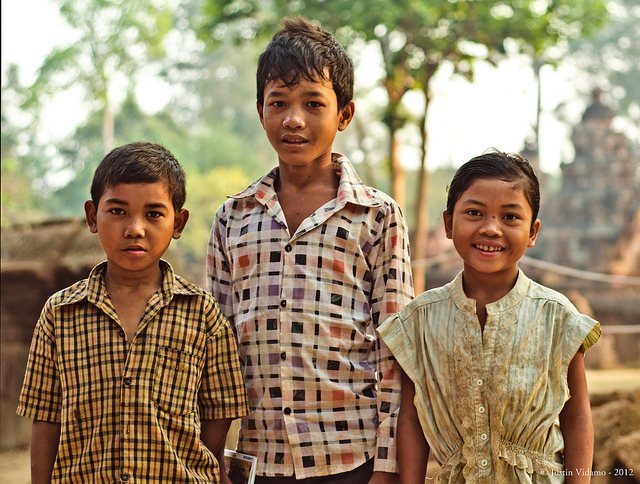 Within the Sustainable Development Goal context of "leave no one behind," there exists an opportunity – and a pressing obligation – to support better outcomes for children. But much of the change needed must happen at country and local level, through better use of data and evidence in decision-making.
February 21, 2019
Data Management Systems and MEL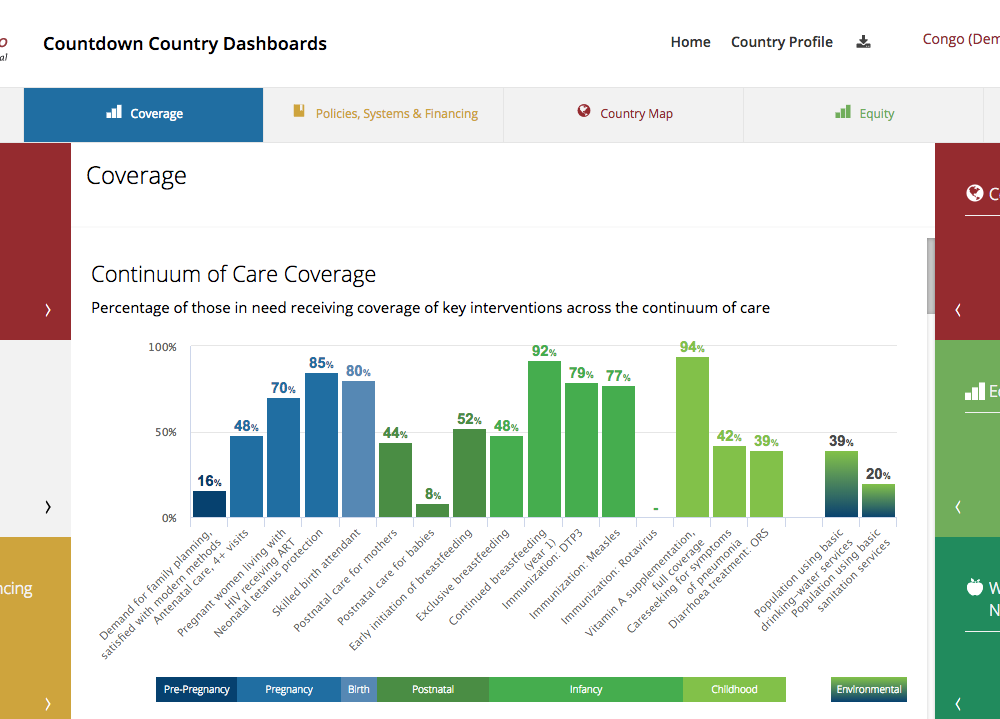 DG is pleased to announce the recent launch of the Countdown 2030 Country Dashboards and Profiles. In recent months, we partnered with Countdown 2030 and UNICEF, a Countdown 2030 member, to develop a series of comprehensive dashboards that illuminate progress towards achieving Sustainable Development Goal (SDG) 3, Good Health and Wellbeing, which calls for the end of preventable maternal, newborn, and child deaths. The Dashboards and Country Profiles visualize data that is provided through an API serviced by UNICEF.