Farmer-Centric Data Governance Models: Protecting Farmers and Food Systems Today and Tomorrow
June 14, 2023
Agriculture
Former DG Consultant Jonathan van Geuns, Annie Kilroy
Data Use, Program, Thought Leadership
Smallholder farmers are increasingly using digital technologies (i.e., AgTech) to increase their profits and production, improve processes, and reduce risks. In doing so, many farmers have significantly increased the value of their work.
After all, AgTech platforms offer many positive features including: openness, interoperability, network effects, control over market entry and participation, and the ability to reshape economic relationships and rationalities.
However, as farmers become more reliant on AgTech, they may find that the AgTech providers controlling these technologies (i.e., companies, nonprofits, and governments) are more integrated than ever before, resulting in a few organizations having unprecedented access to and control of farmers' data. This dynamic results in positive and negative outcomes for farmers. For example, some AgTech companies document farmers' data on agricultural planning software and sell it to fertilizer companies—with or without the farmers' knowledge or consent. The fertilizer companies can then use the data to price gouge.    
Therefore, farmers face the paradox of using AgTech and adding value to their work, communities, and food systems while giving large amounts of data to AgTech companies that have, at best, limited plans for protecting farmers' data.
AgTech providers must address this unbalanced power dynamic by meaningfully involving farmers in the processes of ownership and governance of their data (i.e., the creation and participation of data governance approaches). AgTech providers must prioritize the implementation of fair and equitable data governance models that emphasize farmer participation while guarding farmers against potential disadvantages and exploitation.
To explore potential data governance solutions, I led the Farmer-Centric Data Governance study, which included an extensive literature review and 45 semi-structured interviews with stakeholders and practitioners. The study was co-funded by USAID and Bill & Melinda Gates Foundation, with support from DAI, and in collaboration with Athena Infonomics.
This research informed the conception of user-centric approaches to data governance that place farmers and their communities at the center of data gathering initiatives and aim to reduce the negative effects of centralized power. These data governance models are discussed in our report, Farmer-Centric Data Governance: Towards A New Paradigm.  
The data governance models we explored were: data collaboratives, data commons, data cooperatives, data fiduciary models and marketplaces, Indigenous data sovereignty, and data trusts. These user-centric models can strengthen the power of farmers as a cohesive group, transition ownership and control over data to individuals and collectives, and build safeguards against privacy invasion, data misuse, opacity, and other harms. These models have the potential to bring about greater societal and economic equity and contribute towards increased confidence by stakeholders in the use of data overall.
Deep Dive on a Two Data Governance Models
Data Collaborative Model: In 2019, Fairfood and Verstegen Spices & Sauces collaborated to improve the nutmeg spice supply chain in North Sulawesi, Indonesia. The initiative took an inclusive, farmer-centric data collaborative approach through digitization and data governance, with the aim to improve the position and livelihoods of smallholders and their communities. The fiduciary data stewardship role played by Fairfood has resulted in increased trust and confidence in data sharing; better communication of data claims and benefits to stakeholders; improved consent and understanding of data ownership; and stronger negotiating position for farmers and ensuring that farmers' voices are heard. This case study provides insights into developing transparent value chains; incentives for data sharing; a first step to human, digital, and financial inclusion; data ownership; and data monetization.
Data Cooperative Model: Two initiatives, Abalobi and PescaData, support sustainable fishing communities by co-creating a digital ecosystem for smallholder fishers and key stakeholders and achieving marine conservation outcomes in South Africa, Mexico. The unique, innovative approach of a data and platform cooperative for fisheries aims to collect data, establish a knowledge base, digitally support fishing communities, create market opportunities, and better inform public decision-making. The tools are built through participatory, iterative design to create a usable solution and empower fishing communities. This case study provides insights into data stewardship, participation and collaboration, knowledge sharing, and platform and data cooperatives.
Recommendations
From this project overall, we identified recommendations and next steps for AgTech providers on how to ensure that their technology benefits smallholder farmers. Our recommendations are:
Farmer-centric models should be integrated into digital agriculture programs given their immense potential to shift the current paradigms of information imbalances to benefit farmers, communities, and societies. Farmer-centric models can empower farmers to gain more control and ownership over their data, create individual or collective agency, obtain negotiation power, and protect against data misuse.
Trust needs to be fostered throughout the data lifecycle. Efforts that integrate data analysis and data collection tools must clearly explain what activities are being undertaken, their benefits, privacy measures, the process for asking questions, and how concerns are addressed and resolved. Data insights must be communicated in a manner that is accessible to farmers.
Farmer-centric, participatory data governance pursues more consistent, high-quality data sharing, interoperability, and defragmentation. Its impact is dependent on design, deployment, and implementation done collaboratively and built on a foundation of trust.
Meaningful participation must strongly tie farmers to data governance. Participation in designing farmer-centric models will help ensure their relevance and fit to the particular context.
The vital role of data stewards as trusted intermediaries within programs requires better understanding between farmers, data collectors, and data subjects.
The local context, culture, and practices should determine which governance model is used. Communities often know best how to organize and govern; learning and implementation should follow systematic observation of communities, with different vantage points.
Farmer-centric models should not be seen as a panacea "one-size-fits-all" solution. The practical implementation of data governance or technology is a lot more ambiguous and variable than theory often suggests. A meaningful farmer-centric data ecosystem should be built on a range of approaches.
More research is needed to identify training and capacity-building needs and sustainability of user-centric data governance initiatives. There is a need to develop data governance skills training aimed at practitioners and farmers to assess, implement, refine, and continue to share best practices of data governance initiatives.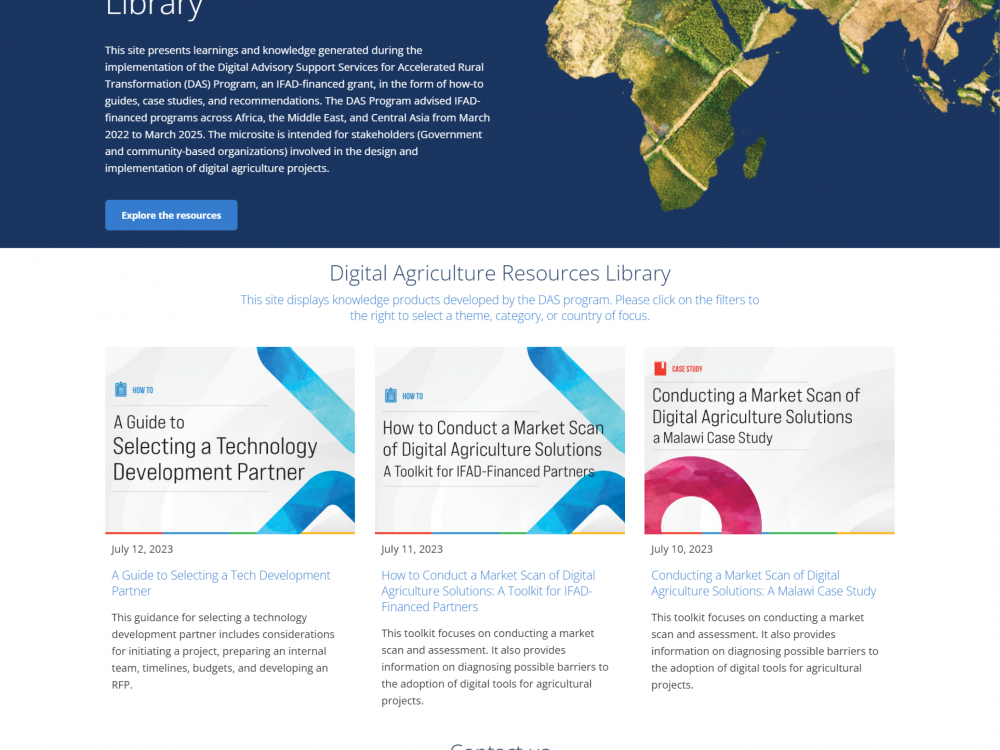 DG is pleased to announce the launch of our Digital Agriculture Knowledge Management Library, which is a digital repository of resources detailing digital agriculture best practices. These resources were created as part of our DAS program in order to support individuals and groups across Africa, the Middle East, and Central Asia as they advance local and regional agricultural systems through the implementation of digital tools and technologies.
September 12, 2023
Agriculture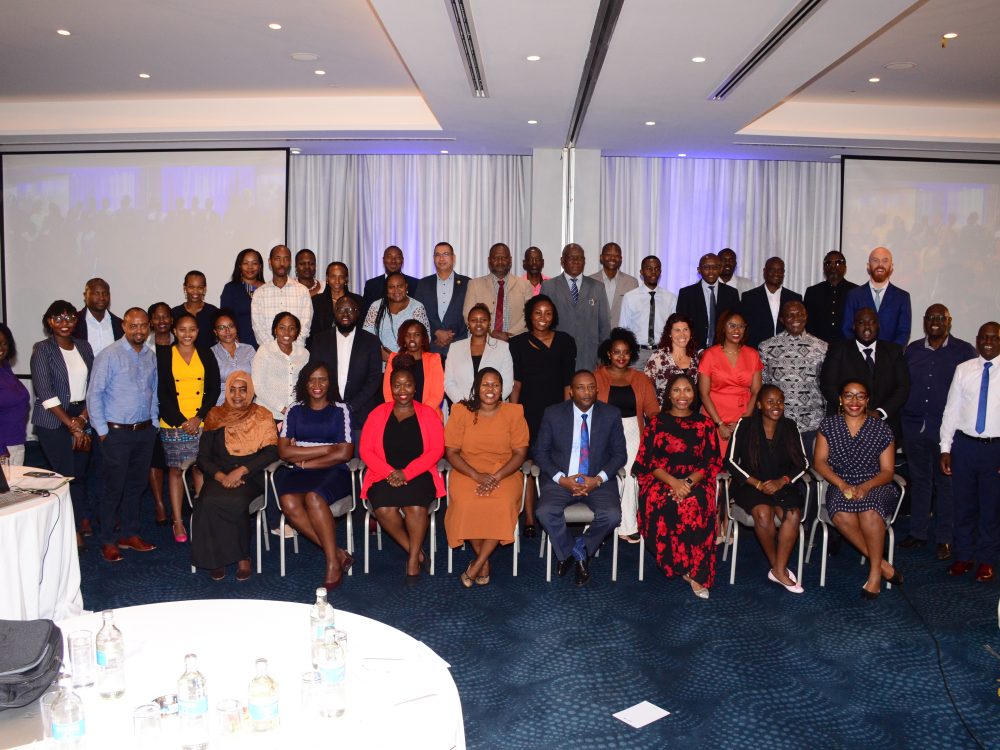 With the aim of improving the efficiency of agriculture data use, Development Gateway: An IREX Venture (DG), Jengalab, and TechChange—with a grant from the International Fund for Agricultural Development (IFAD)—recently held a learning event, titled "Digital Agriculture: Building the Agricultural Systems of Tomorrow," in Nairobi, Kenya. Participants identified two key recommendations for advancing digital agriculture in order to increase food security.
August 29, 2023
Agriculture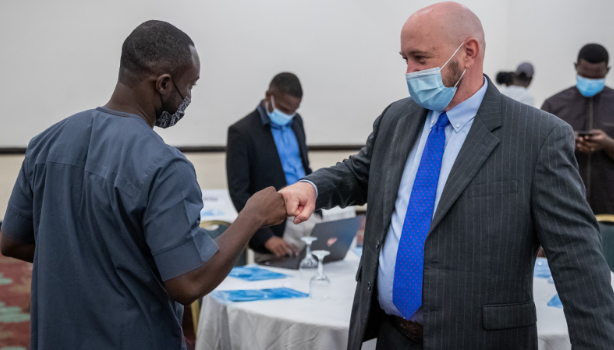 In this blog, DGers Ousmane Koné and Andrea Ulrich explore DG's six step "recipe" for effective data use.
July 25, 2023
Agriculture