Social Good Summit 2017: Technology, Innovation, and a Call to Action
October 24, 2017
Global Data Policy
On September 17th, the UN Foundation's Social Good Summit took place at the 92nd Street Y in NYC as a kickoff to the 72nd Meeting of the UN General Assembly. Entrepreneurs, experts, activists, and SDG Global Goalkeepers gathered in a call to action about how we will integrate technology and innovation into our vision for 2030.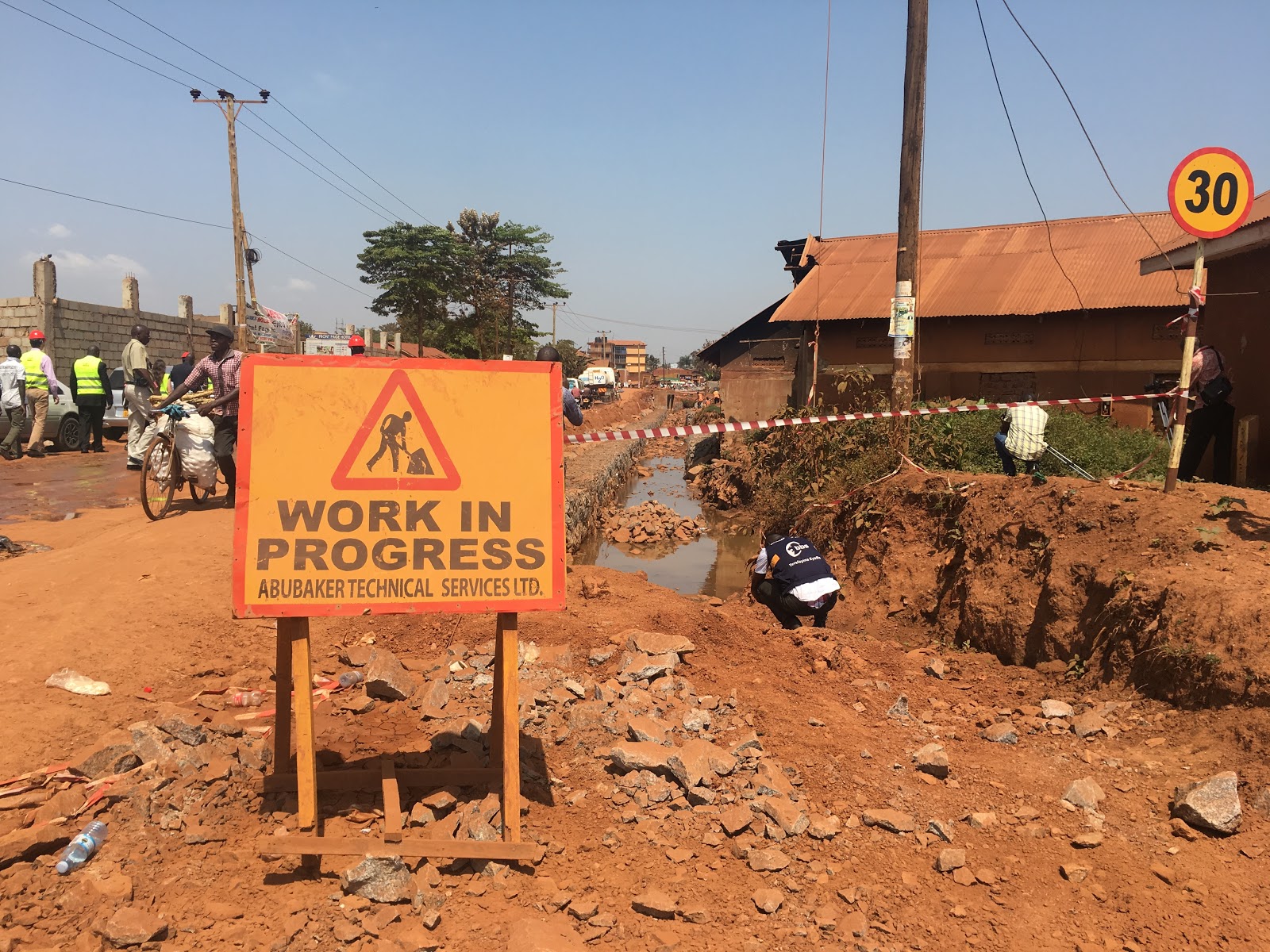 Skyping into refugee camps in Uganda to discuss the importance of investing in education
DG — a longtime Data Champion of the Global Partnership for Sustainable Development Data and a member of its Technical Advisory Group — aims to harness the data revolution to achieve the SDGs. We know that connectivity and technology are changing the way we approach development. We attended the Summit to explore new ideas around how our mission to co-create tools that help decision-makers monitor and use data could help achieve the Global Goals.
The Summit focused on identifying innovations that can help achieve the SDGs and make our collective vision for 2030 a reality. It brought to light myriad ICT4D success stories, but also served as an opportune reminder that stories of failure must also be remembered. In fact, stories of failure must not only be told, but they should be used for change as we look to achieve the SDGs by 2030.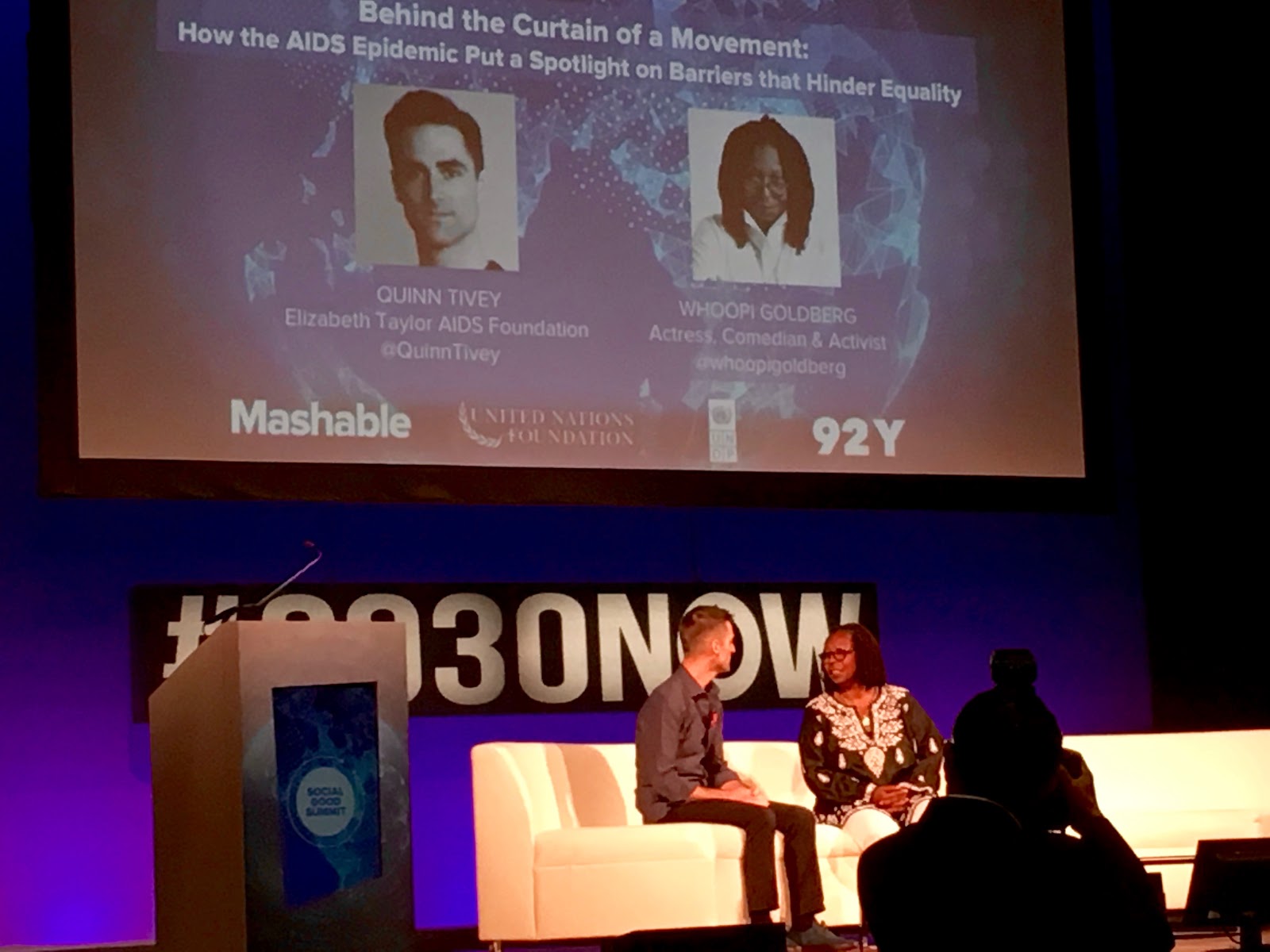 Pete Cashmore and Whoopi Goldberg discussing how the failed AIDS crisis response spotlighted barriers to equality
A Call for Better Data for Health Crises
We know that the Ebola crisis exposed critical gaps in health data quality and accessibility — poor information flows rendered critical data difficult to obtain, analyze, share, and use during the crisis — creating an unnecessary barrier to helping people.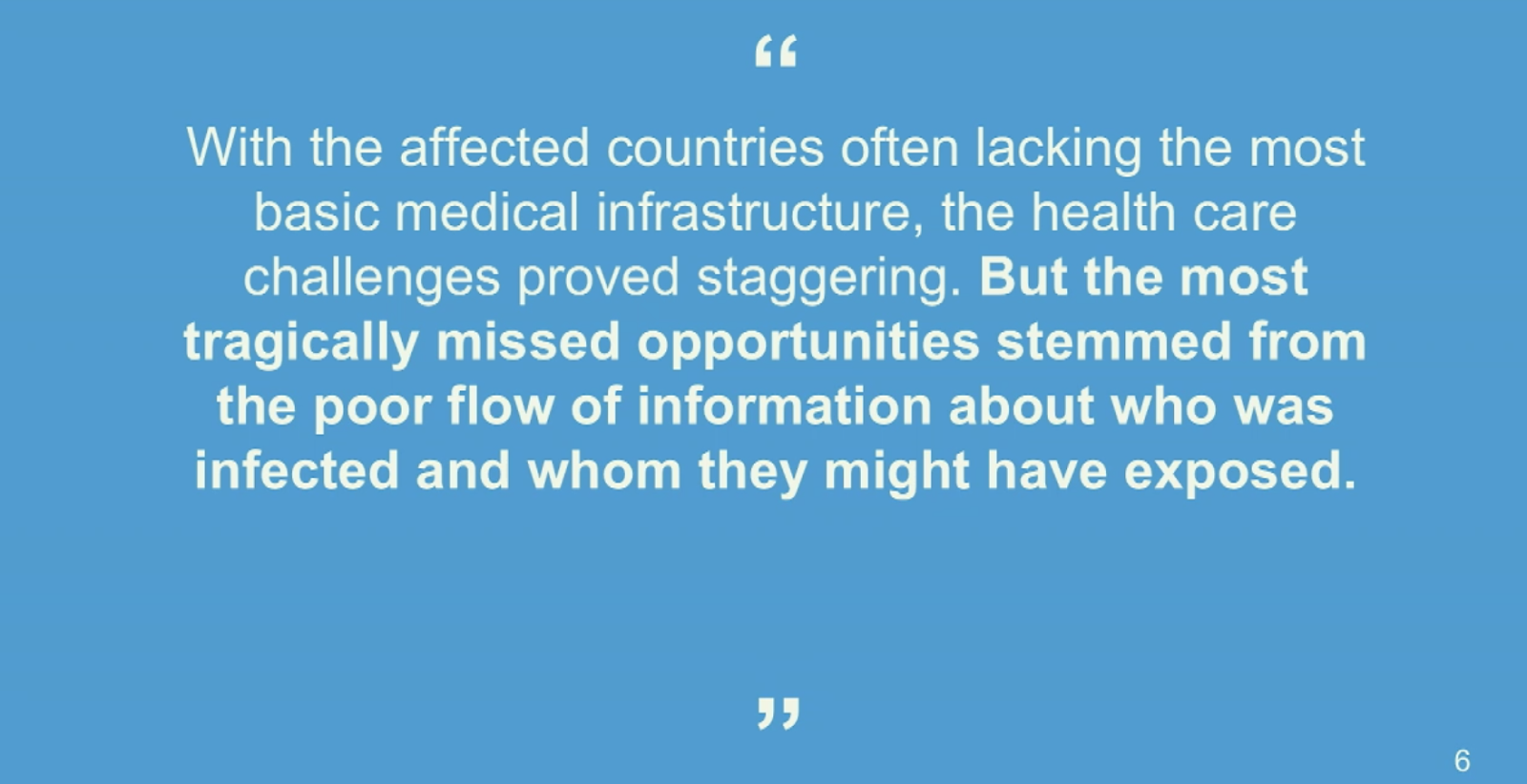 Kareem Elbayar of UNOCHA
During the Ebola crisis, neither humanitarian responders nor the public were able to compare data, visualize trends, or understand events on a regional or multi-country scale. Information was often misleading or simply untrue, coming from several sources and reaching different groups of people. Such confusion affects not only immediate response to a crisis, but the ability to identify problem areas in recovering and adapting post-crisis. It stunts resilience building, preventing cities and individuals from planning effectively for future crises. That's where tools and analysis can come in.
DG is creating tools to allow governments, civil society organizations, and the public access to data, including health crisis data. Aside from merely improving access, we are working with others to co-design the best ways to utilize the data. For example, PREMAND supplements clinical data with an understanding of the social and environmental factors that affect outcomes for mothers and infants in Ghana, and the Results Data Initiative focuses on systematizing usage of health data.
Additionally, by using open data and data standards, we can achieve a faster flow of critical information, avoid duplication of effort, and make sense of an enormous flood of information in times of crisis.
Lessons Learned at the Social Good Summit
Reminding us of our shared responsibility to take action, Whoopi Goldberg wisely told the audience, "you can help, and you should help, because you can. Everyone can do something."
DG is working to develop solutions, both hands-on ones and through technology platforms, that will enable us to "tell richer, more nuanced stories about people in need in a crisis, and what we can do to help them."
Image Credit: Mashable, Social Good Summit
Related from our library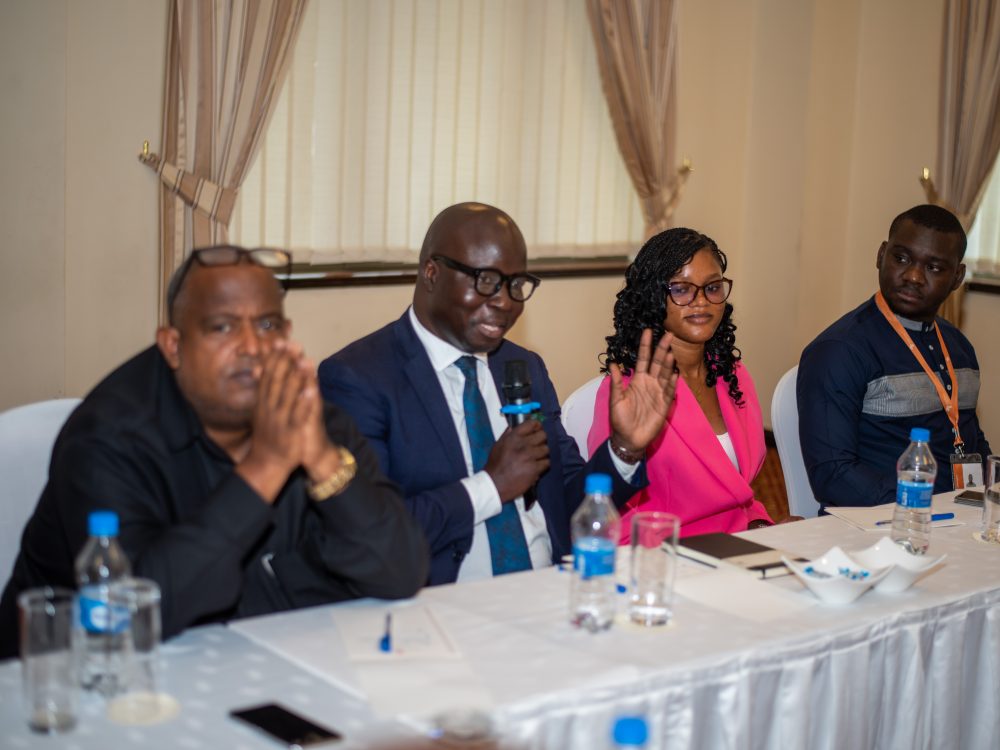 Development Gateway: An IREX Venture (DG) hosted a discussion titled "Transforming Food Systems: The Power of Interoperability and Partnerships" at both Africa Food Systems Forum (AGRF) 2023 and the recently concluded ICT4Ag conference. Discussions from these critical events revolved around key themes crucial to DG's ongoing work, including connecting people, institutions, partners, and systems when we think about technology working at scale to transform agriculture. In this blog, we explore three key takeaways from these conversations.
November 16, 2023
Agriculture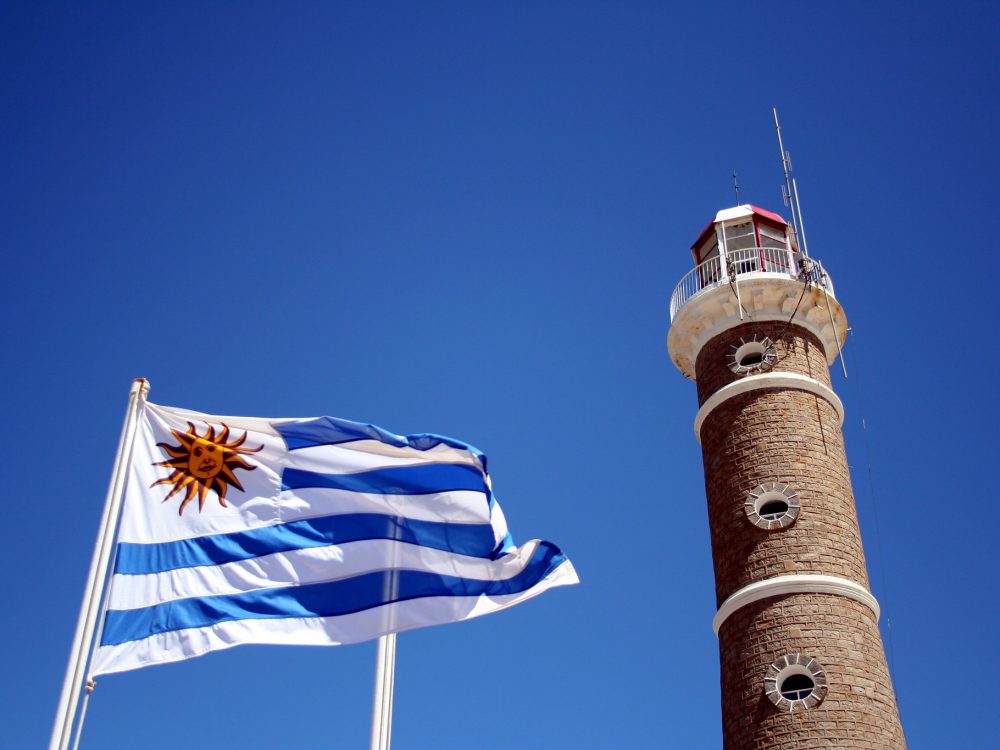 The Festival De Datos is here, marking a pivotal moment to assess our journey with data for development. At DG, we've championed leveraging data and tech for a more equitable, sustainable world. But to fulfill this vision, we need to push for a fair data future and establish a culture of trust and cooperation in data use.
November 7, 2023
Global Data Policy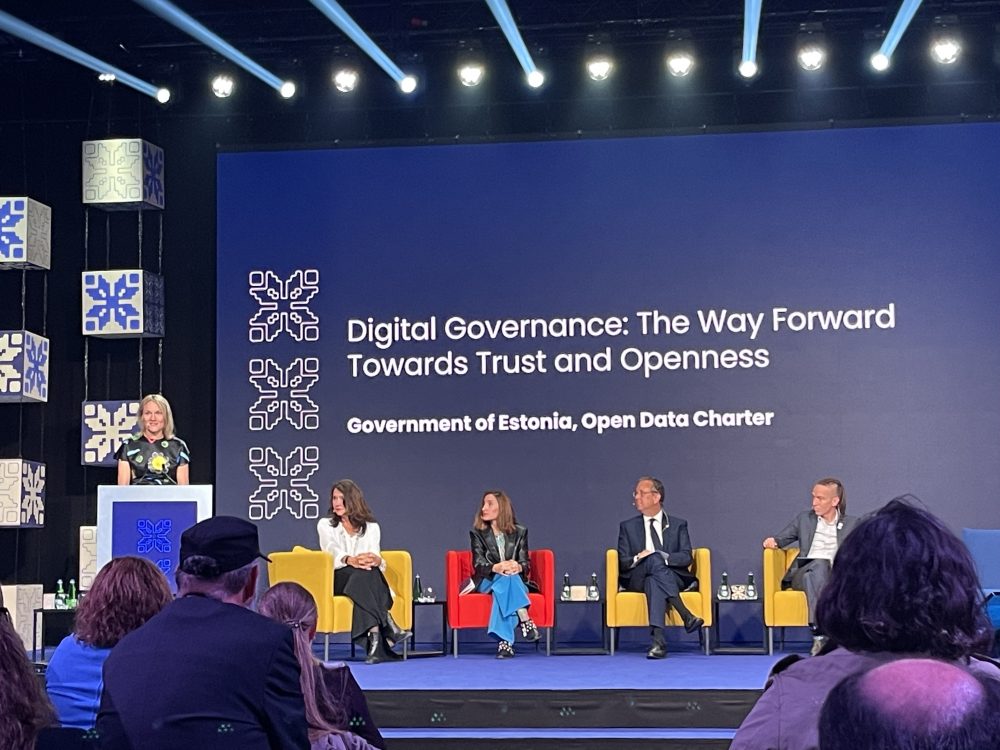 The 2023 OGP Summit in Tallinn, Estonia featured a number of discussions centered on open government in the digital age. While the use of digital tools in government is far from a new idea, the COVID-19 pandemic spurred a rapid expansion of this practice, with leaders quickly adapting to remote environments through digitizing government processes
September 19, 2023
Global Data Policy